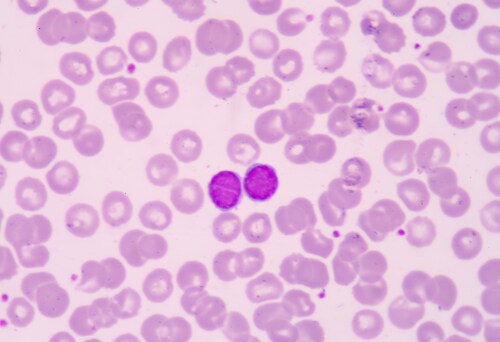 As Wu et al. explain in their recent publication, non-Hodgkin lymphomas (NHLs) are primarily made up of follicular lymphoma (FL) and diffuse large B-cell lymphomas (DLBCL). Both types of lymphoma are derived from B cells, with 25–30% of FL transforming to the more aggressive DLBCL. To illuminate proteomic changes involved in B-cell lymphomas, Wu and colleagues (2016) compared the 2-D proteome profiles of NHL cell lines to a lymphoblastoid cell line (LCL) derived from the Epstein Barr virus.1
The researchers grew cells from the DOHH2, SUDHL4 (FL), SUDHL6, SUDHL10, OCILY3, Karpas 422 and SUDHL5 (DLBCL) cell lines. They also obtained tissue samples from 46 patients. These 46 cases consisted of 13 low-grade FL, 8 FL transformed to DLBCL with evidence of FL in the sample or earlier diagnosis of FL (TFL), and 25 nodal DLBCL. They validated B2M expression by sampling a second group of 137 DLBCL NOS patients, of which 12 patients were also included in the first cohort.
Next, the team used two-dimensional polyacrylamide gel electrophoresis fractionation, running two gels in parallel, one with an LCL sample and the second gel with one of the lymphoma cell lines. They also repeated this experiment twice. After analyzing the gels, the team excised spots showing a change in expression patterns with consistent differences between LCL and NHL. An average of 130 spots had a least a two-fold difference in intensity. The team isolated 38 (±4) protein spots in each pair of gels showing expression changes and analyzed them using liquid chromatography and tandem mass spectrometry (LC-MS/MS) on an LTQ-Orbitrap XL (Thermo Scientific).
The researchers then linked the position in the second dimension to 145 unique protein spots. Of these, they discovered 34 spots in at least three NHL cell lines. The team identified 28 unique proteins, with most involved in cell mortality and cell metabolism. Taking a closer look once more, the team examined the expression levels of B2M, which plays a role in the immune response; PRDX1, which has an antioxidant function; and PPIA, which is involved in signal transduction.
When PPIA was inhibited with cyclosporine A (CsA), the team found a correlation between PPIA expression and sensitivity to CsA-induced cell death. In the primary lymphoma tissue and cell lines, the team saw a loss of B2M, expression and gain of PRDX1, and expression of PPIA. In fact, B2M expression was downregulated or absent in all NHL cell lines compared to LCL cells.
PRDX1 expression was elevated at the protein and mRNA level in part of NHL cell lines compared to LCL cells. In patient samples, there was a higher proportion of PRDX1 expression in the more aggressive TFL and DLBCL as compared to the indolent FL. Looking at PPIA, the researchers saw elevated expression in the 2-D in three cell lines. Additionally, the mRNA levels were consistently higher in NHL cell lines compared to LCL cells, which was a novel finding.
Reference
1. Wu, R., et al. (2016) "Proteomics based identification of proteins with deregulated expression in B Cell lymphomas," PLoS One, 11(1). doi: 10.1371/journal.pone.0146624.