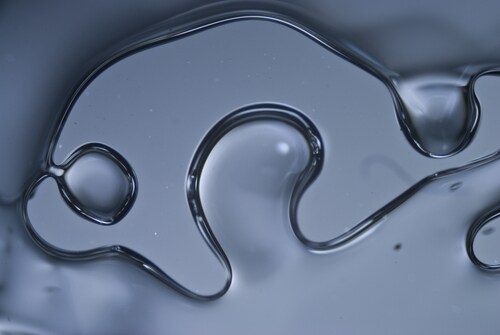 In northwestern China, researchers are learning more about how the Xiaohe people used adhesives to create tools and other items. Within the 3,500-year-old Xiaohe Cemetery located in the Taklamakan Desert, scientists have discovered multiple bone and wooden staffs containing inlaid artifacts held in place with an adhesive. Placed near the head and feet of the person occupying the tomb, researchers consider the staffs important weapons of shamanism.
Rao et al. credit the arid Taklamakan Desert climate with preserving these artifacts.1 A typical staff consisted of a wooden pole with the inlaid bone sculptures (bound by adhesive) in the top portion. The remaining parts of the wood pole contained feathers, ephedra twigs, mane and twine rope. To better understand the composition, the research team carefully analyzed the adhesive. Because they wanted to preserve everything possible, they only used staffs that were partially intact, missing rope and mane, for their investigation.
The team points out that other adhesives, dating back to the Stone Age, have been analyzed using gas-phase chromatography and liquid-phase chromatography. For their analysis, Rao et al. sampled the semi-transparent yellowish adhesive and characterized its major constituents utilizing KBr micropellets and Fourier transform infrared spectroscopy (FTIR) using a Nicolet 6700 spectrometer (Thermo Scientific).
For the proteomic analysis, the team extracted proteins prior to sodium dodecyl sulfate–polyacrylamide gel electrophoresis (SDS-PAGE). Next, they performed an in-gel digest and then subjected the samples to liquid chromatography and tandem mass spectrometry using an LTQ Orbitrap Velos hybrid ion trap-Orbitrap mass spectrometer (Thermo Scientific).
By looking at the specific patterns of absorption peaks produced during FTIR, the team determined that protein was indeed present in the adhesive. Database searches using the NCBInr database with Mascot software (version 2.4.1) identified proteins found in bovine collagen, including bovine collagen alpha-1(I) chain precursor and collagen alpha-2(I) chain precursor as the main components. The team also identified 12 peptides from collagen a1 type I and 6 from collagen a2 type 1.
These findings indicate the adhesive was derived from cattle, which also adds weight to earlier reports indicating cattle were a large part of the Xiaohe culture. The team also found evidence indicating cattle were important in religious ceremonies, in addition to being used as a food source.
By applying proteomics strategies, Rao et al. were able to date the bovine glue to an age of approximately 3,500 years—now the earliest documented use of glue in China and 500 years earlier than previous estimates.
Reference
1. Rao, H., et al. (2015, January) "Proteomic identification of adhesive on a bone sculpture-inlaid wooden artifact from the Xiaohe Cemetery, Xinjiang, China," Journal of Archaeological Science, 53 (pp. 148–155), doi: 10.1016/j.jas.2014.10.010.
Post Author: Emily Humphreys. Emily has previous research experience in eye development, infectious diseases, and aging. While she enjoyed the thrill of research, She has since traded bench work for science journalism. Emily has been a regular contributor to Accelerating Science since 2012.