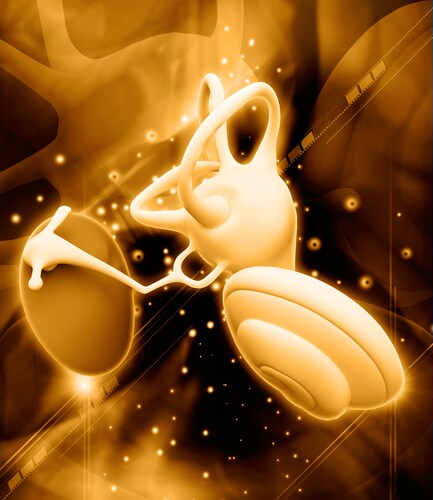 The plasma membrane of the cell facilitates protein–protein interactions. This is made possible by membrane microdomains made up of cholesterol-rich lipid rafts. According to Thomas et al. (2014), mounting research suggests cholesterol plays a role in proper functioning of the cochlea, the spiral-shaped cavity within the inner ear. This research group sought to determine the prevalence, localization and protein composition of cholesterol-rich lipid microdomains in the cochlea, with the eventual goal of obtaining a greater understanding of the mechanisms involved in sound processing.1
The researchers dissected whole auditory organs from white Leghorn chickens approximately 18–28 days old, dissecting the temporal bones and removing the dura, oval window, and middle ear structures. They fixed and froze these structures for immunohistochemistry targeting GM1 gangliosides and lipid rafts. The scientists detected the cholesterol-binding plasma membrane proteins caveolin-1 and caveolin-3 (Cav1 and Cav3) in sensory cells, Cav1 in auditory neurons, and Cav3 in glia; however, Cav2 antibodies failed to reveal specific staining patterns.
The team also investigated subcellular compartmentalization by dissociating individual hair cells. In addition, they performed gene expression assays to extract the total RNA and cDNA, using PCR to verify the presence of caveolin within the cochlea; caveolin expression was high in the cochlea and auditory ganglion, compared to other central and peripheral tissues. The presence of caveolin in the cochlea and the abundance of proteins in cholesterol-rich detergent-resistant membrane (DRM) fractions suggest that lipid microdomains play a significant role in cochlear physiology.
By way of protein analysis, the researchers focused on the DRM fragments, which are pieces of the lipid rafts that are insoluble in non-ionic detergents. The team submitted DRM fractions from three independent biological samples to MS Bioworks for analysis via mass spectrometry; the DRM fractions were separated, pooled and dissolved with protease inhibitor cocktail (Thermo Scientific). After additional processing, the samples were ready for analysis using liquid chromatography and tandem mass spectrometry on a Waters NanoAcquity HPLC system interfaced to an LTQ Orbitrap Velos Pro hybrid ion trap-Orbitrap mass spectrometer (Thermo Scientific).
Thomas and colleagues used a micro bicinchoninic acid (BCA) protein assay and the Amplex Red cholesterol assay (both from Thermo Scientific) for protein quantification and cholesterol quantification, respectively.
The mass spectrometric analysis revealed over 600 proteins within the inner ear's cholesterol-enriched membrane microdomains. Gene ontology assays also determined that the putative raft proteins played a role in subcellular localization, trafficking and metabolism.
Among the DRM constituents identified were several proteins involved in human forms of deafness. The researchers also found proteins involved in ion homeostasis between the three fluid-filled chambers of the cochlea, including the potassium channel KCNQ1, the co-transporter SLC12A2, and gap junction proteins GJA1 and GJB6. As an aside, Thomas et al. further investigated the effects of cholesterol-chelating cyclodextrins on the cholesterol-rich microdomains, noting these caused substantial death of outer hair cells, leading to hearing loss. When expanded by further experiments, the researchers hypothesize these findings could lead to new associations between cholesterol homeostasis and hearing loss.
Reference
1. Thomas, P.V., et al. (2014, May) "Localization and proteomic characterization of cholesterol-rich membrane microdomains in the inner ear," Journal of Proteomics, 103 (pp. 178–93), doi: 10.1016/j.jprot.2014.03.037.
Post Author: Emily Humphreys. Emily has previous research experience in eye development, infectious diseases, and aging. While she enjoyed the thrill of research, She has since traded bench work for science journalism. Emily has been a regular contributor to Accelerating Science since 2012.