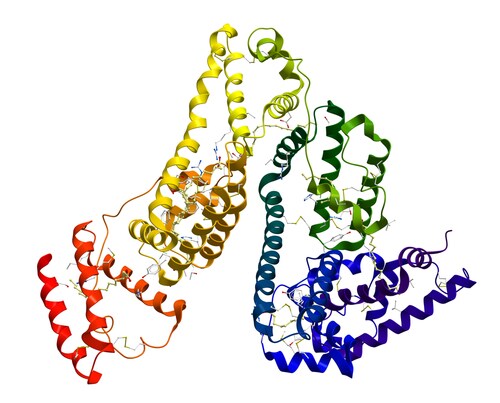 Researchers have demonstrated the potential of albumin-bound proteins as biomarkers for the effects of patent foramen ovale (PFO) endovascular closure. They have also shown the potential cardioprotective effects of PFO endovascular closure on HDL, cholesterol and albumin-bound ApoA-I abundance.
PFO is a congenital hole between the left and right atria of the heart. It is present in 25–30% of the population. Many people never know they have this condition. In the United States it has caused more than 250,000 strokes because it can allow peripheral embolisms to travel directly to the brain. PFO is also associated with debilitating migraine headaches. Nonetheless, because of its often covert nature, the effects of PFO have yet to be entirely elucidated.
Lopez et al.1 recently used immuno-enrichment and high-resolution liquid chromatography–tandem mass spectrometry (LC-MS/MS) to characterize albumin-bound proteins in PFO with respect to physiological changes. They combined this with mass spectrometric immunoassay (MSIA) technology (Thermo Scientific) to minimize non-specific binding. Their hypothesis was based on recent studies showing that albumin mediates cholesterol efflux from cultured fibroblasts and endothelial cells. Additionally, albumin has pleiotropic functions, including maintaining plasma oncotic pressure, binding a host of toxic molecules, and acting as a carrier for lipoproteins, small molecules and drugs. Under this premise, the researchers attempted to investigate whether albumin-bound proteomic profiles were correlated with plasma HDL and cholesterol levels.
The investigators collected plasma samples from PFO stroke patients and healthy controls with similar risk factors for disease. They enrolled these patients post ischemic stroke. They processed the samples with polyclonal anti-albumin or anti-beta-lactoglobulin antibodies using custom MSIA tips and a Versette Automated Liquid Handler (all from Thermo Scientific). They then eluted the captured albumin and albumin-bound proteins and dried them down. The investigators chose to include the anti-beta-lactoglobulin activated tips to control for any non-specific binding to the anti-albumin antibody, since beta-lactoglobulin is not present in human plasma.
After MSIA processing, the researchers eluted the samples into a 96-well microplate, lyopholized them and injected 20 μL of each sample into an Easy nLC system coupled to a LTQ Orbitrap Velos hybrid ion trap-Orbitrap mass spectrometer (both Thermo Scientific). They also measured cholesterol, triglycerides and HDL using a chemistry analyzer.
There were 46 albumin-bound proteins in the PFO closure samples. Fifteen of them had an increased ratio and 13 a decreased ratio. In the no-closure PFO samples there were 40 albumin-bound proteins, 9 of which had an increased ratio and 19 a decreased ratio. Between the two sample sets, the investigators found an overlap of 8 proteins.
The receiver operating characteristics area under the curve (ROC AUC) scores and abundance ratios of the eight proteins in common were very different between the sample groups. ApoA-1 and ApoC-III had the highest ROC AUC scores in the PFO closure group. Abundance ratios for these proteins were also higher in the PFO closure sample set than in the no-closure sample set, with the ApoC-III B/FU abundance ratio almost two times higher in the PFO closure sample. In the no-closure group, kininogen had the most significant ROC AUC score, and its abundance ratio was 1.6 times higher than in the closure group.
When the investigators performed analysis of the protein data sets, they found that there was increased cholesterol and phospholipid efflux. They also found there to be decreased lipid oxidation in the PFO closure sample group as compared to the no-closure sample group. This was supported by results from cholesterol measurements.
Additionally, the investigators found PFO closure to be associated with increased cholesterol efflux and decreased lipid oxidation. Albumin-bound ApoA-I and several other proteins were significantly increased (1.2–1.7 times) in PFO closure samples. HDL was increased and cholesterol was decreased following endovascular closure. Of note, ApoA-I is the most abundant protein in HDL, and the HDL-mediated ApoA-I pathway and passive diffusion are well-described pathways for cholesterol efflux.
The data in this study demonstrate the potential of albumin-bound proteins as effective biomarkers for the effects of PFO endovascular closure. Therefore, there could be potential benefits to raising HDL levels, although the authors note that this remains controversial. Further studies will be required to account for possible confounders such as exercise, genetic factors, alcohol, hormonal influences and nutrition status.
Reference
1. Lopez, M.F. (2015) "Proteomic signatures of serum albumin-bound proteins from stroke patients with and without endovascular closure of PFO are significantly different and suggest a novel mechanism for cholesterol efflux," Clinical Proteomics 12(1), doi: 10.1186/1559-0275-12-2.
Post Author: Miriam Pollak. Miriam specialised in neuroscience as an undergraduate but traded in lab work for a post graduate degree in science communication.
She has since had a career that has spanned science communication, science education and communications management.
However, Miriam has found her bliss balancing her love of writing and disseminating medical research with managing a multimillion dollar research budget for a childhood cancer charity in Australia.
Oh, and because she's a sucker for punishment… she's just started a Masters in Human Nutrition…