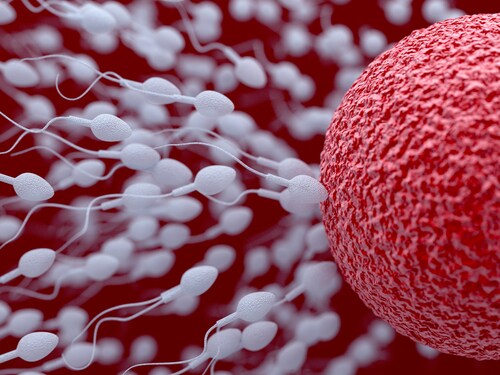 Proteomics strategies may assist researchers in illuminating the role hormones play in protein expression in a biological fluid matrix. In human semen, the plasma participates in several protein-mediated roles, including sperm capacitation, uterine immune modulation, sperm reservoir formation, the sperm–zona pellucida binding, and sperm–egg fusion. This plasma derives from androgen-dependent secretions of the testis, the epididymis and the accessory glands.
Recently, Milardi et al. applied high-resolution mass spectrometry (HRMS) to human semen samples for the purpose of enhancing the understanding of the relationship between androgen deficiency and the reproductive function of the accessory glands.1 To do this, the team acquired semen samples from 20 patients with secondary hypogonadism resulting in reduced blood testosterone levels (<2.3 ng/ml total testosterone, <1.6% free testosterone). They also collected samples from 10 of these patients after six months of testosterone replacement therapy (TRT), along with 10 normogonadic, fertile controls.
The researchers assessed the prostate-vesicular region by ultrasound and established hormone levels via blood draw. They noted reductions in sperm count, sperm motility, and normal sperm morphology in hypogonadic samples. They also found significant decreases in total testosterone, free testosterone, follicle-stimulating hormone, luteinizing hormone and estradiol. TRT produced increases in both testosterone and estradiol.
For semen samples, the team centrifuged the liquefied semen to obtain the plasma, microscopically verified the absence of spermatozoa, and froze the aliquoted samples (0.5 ml). They subsequently analyzed the seminal plasma (1 mg total protein per aliquot), after digestion and resuspension in trifluoroacetic acid, using an Ultimate 3000 Nano/Micro-HPLC [high-performance liquid chromatography] apparatus coupled with an LTQ Orbitrap XL hybrid ion trap-Orbitrap mass spectrometer (Thermo Scientific). For this, the team applied both full-scan (60,000 resolution) and data-dependent modes (30,000 resolution). In the Orbitrap mass analyze they also used collision-induced dissociation to fragment the three most intense, multiply charged ions and recorded the spectra. For data analysis and bioinformatics, they relied upon Proteome Discoverer software (revision 1.3, Thermo Scientific), SEQUEST, PANTHER and STRING.
Milardi et al. compared the proteins identified in the control samples with those identified in the hypogonadic samples to determine specific protein-level absences that accompany secondary hypogonadism. Then, using the samples collected after TRT, they searched the seminal proteome for proteins that disappeared in a hypogonadic state and reappeared after testosterone replacement. The scientists found no significant change in protein concentration (mean 12.75 ug/ul versus 13.19 ug/ul) but reported fewer unique proteins in hypogonadic samples (mean SD = 6.38 +/- 1.50 versus 14.20 +/- 7.15; P < .05). Of the 61 proteins identified in normogonadic, fertile samples, 33 were absent in the hypogonadic samples. The team positively detected 14 of these in the post-TRT samples.
Gene ontology of the 14 testosterone-dependent proteins revealed impairments in the following functional categories: catalytic activity (42%), binding activity (25%), enzyme regulation (17%), antioxidant activity (8%) and receptor activity (8%). PANTHER found hydrolase (23%) to be the most frequently impacted protein class. According to STRING, fully half of the 14 differentially expressed proteins participate in a single protein–protein interaction network directly interfaced with the androgen receptor.
The team states that their HRMS findings confirm that androgen deficiency decreases during in vivo protein synthesis and that the specific absence of testosterone dysregulates a variety of proteins related to accessory glands. Of particular note, some of the testosterone-dependent proteins (S-100A9, lactotransferrin, prolactin-inducible protein, prostatic acid phosphatase, carboxypeptidase E and cystatin C) are likely linked to successful reproduction. This information not only enhances the understanding of the sexual accessory glands, but also reveals potential drug therapy targets for infertility associated with male hypogonadism.
Reference
1. Milardi, D. (2014) "Novel biomarkers of androgen deficiency from seminal plasma profiling using high resolution mass spectrometry," Journal of Clinical Endocrinology and Metabolism, doi: 10.1210/jc.2013-4148 [e-pub ahead of print].
Post Author: Melissa J. Mayer. Melissa is a freelance writer who specializes in science journalism. She possesses passion for and experience in the fields of proteomics, cellular/molecular biology, microbiology, biochemistry, and immunology. Melissa is also bilingual (Spanish) and holds a teaching certificate with a biology endorsement.