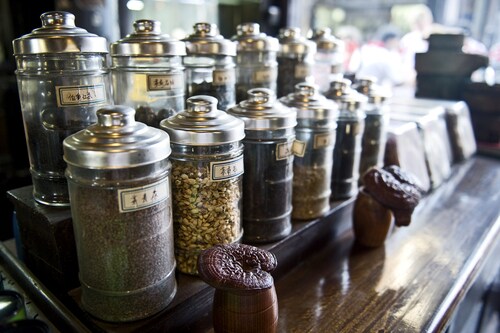 Traditional Chinese medicine (TCM) products vary in their formulation. Wang et al. (2016) used mass spectrometry to accurately identify the chemical constituents of xiang-sha-liu-jun-zi-jia-jian (XSLJZJJ) in a study that may improve future quality control.1
XSLJZJJ is a TCM product containing eight herbal medicines. It is used to treat spleen deficiency and dyspepsia caused by qi stagnation (in TCM, qi stagnation is though to occur when energy flow is blocked in a person's body). Wang et al. obtained samples of each of the nine constituents (zhihuangqi, dangshen, chaobaizhu, fuling, chaozhiqiao, chunsharen, chuanxiong, yanhusuo and zhigancao) and XSLJZJJ granules. They ground each of the herbs and the granules to a powder and centrifuged the methanol extraction for each before storing at 4ºC prior to analysis.
To obtain higher resolution and sensitivity, Wang et al. optimized the mobile phase system and gradient program and used 0.1% formic acid in water and acetonitrile. They also used positive and negative modes of a high-performance liquid chromatography (HPLC) LTQ Orbitrap mass spectrometer (Thermo Scientific) to obtain sufficient structural information of the chemical compounds with different structure types.
In total, Wang et al. labelled 169 peaks in the extracted ion chromatograms from XSLJZJJ. This corresponded to 169 compounds that they unambiguously identified, 11 using reference standards and the remaining using data from previous studies. The single herbs had trace peaks that could easily be missed in the complete TCM formula. In particular, they found two such herbs in dangshen were almost undetectable in XSLJZJJ.
The investigators found six constituent herbs with the most representative structures of XSLJZJJ: 10 compounds in zhihuangqi, 22 in dangshen, 23 in fuling, 19 in chuanxiong, 25 in yanhusuo and 28 in zhigancao. Wang et al. identified the compounds as being mostly flavonoids, alkaloids, triterpenic acids, triterpene saponins, lactones, sesquiterpene lactones, amino acids, polyacetylene glycosides and phenolic acids.
Wang et al. conclude that their method is a reliable measure for comprehensively analyzing TCMs to identify the chemical basis for their therapeutic effects.
Reference
1. Wang, F., et al (2016) "Identification of chemical constituents in traditional Chinese medicine formula using HPLC coupled with linear ion trap-Orbitrap MS from high doses of medicinal materials to equivalent doses of formula: Study on Xiang-Sha-Liu-Jun-Zi-Jia-Jian granules," Journal of Separation Science, 39(9) (pp. 1619–1627).
Post Author: Miriam Pollak. Miriam a Nutritionist specialising in women's health and works from her Bondi Beach clinic. She is also currently completing her Masters by research in nutrition.
Prior to this, Miriam majored in neuroscience as an undergraduate before completing a post graduate degree in science communication. She spent over a decade working in science communication and medical research, collaborating with some of the best oncologists and researchers in Australia and the U.S.