With the incidence of melanoma cases rising globally, research into this deadly skin cancer focuses on searching for new therapeutic strategies to halt or eradicate tumor burden in affected patients. Singh et al. (2014) used a gel-free, quantitative proteomics approach to define downstream effectors and targets of SIRT1, a protein implicated in melanoma and other cancers including prostate, pancreatic and colorectal.1
The research team chose to examine protein interactions and pathways involving SIRT1, a NAD(+)-dependent class III histone deacetylase active in the cell nucleus and cytoplasm. Previous studies found that this protein is upregulated in other cancers, including melanoma. Furthermore, specific inhibition using tenovin-1 acting through p53 suppressed proliferation and decreased cell survival.2
Using melanoma cell line G361, the scientists examined digested cell lysates using nano-liquid chromatography–tandem mass spectrometry (nanoLC-MS/MS) to characterize proteins differentially expressed following tenovin-1 treatment. They digested the cell lysates using in-liquid trypsinization, then analyzed the peptides using an LTQ Orbitrap XL hybrid ion trap-Orbitrap mass spectrometer (Thermo Scientific).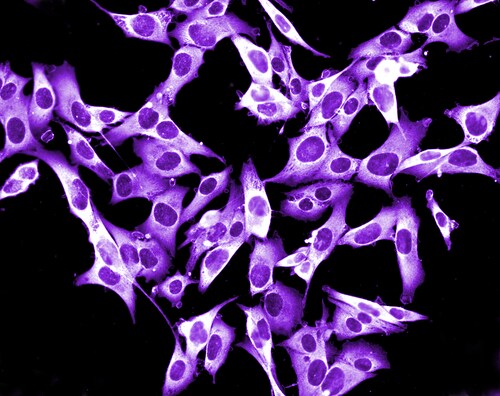 With their quantitative proteomic approach, the scientists identified 1,091 cellular proteins in the G361 cells, 20 of which showed differential expression following tenovin-1 treatment (p<0.05). Once identified, the researchers used gene ontology and PANTHER (Protein Analysis Through Evolutionary Relationships) classification to examine the protein data for molecular functionality and classification. They also used Ingenuity Pathway Analysis to map out protein–protein interactions, confirming the previous suggestion that p53 is involved in SIRT1 melanoma activity.
Singh et al. also examined differentially expressed proteins by quantitative real-time polymerase chain reaction (qRT-PCR), noting that only five of these (PSAP, MYO1B, MOCOS, HIS1H4A and BUB3) reflected differential protein abundance.
The team then examined tenovin-1-mediated SIRT1 inhibition in two additional melanoma cell lines: A375 and Hs294T. Although they found that tenovin-1 treatment affected transcription and translation levels, the mRNA results did not always reflect changes in protein abundance. Furthermore, the response varied according to cell line, achieving concordance in mRNA and protein abundances for PSAP, MYO1B and BUB3 only.
Focusing on the BUB family of proteins, important cell cycle regulators acting at the mitotic spindle checkpoint, the scientists examined the in vitro response to tenovin-1 treatment using immunoblot analysis. They found that levels of BUB3, BUB1 and BUBR1 decreased with SIRT1 inhibition. Singh et al. then differentiated the role of SIRT1 from SIRT2 in BUB protein regulation using an in vitro knockdown approach in G361 cells to measure BUB protein abundance. They found that only SIRT1 inhibition downregulated BUB protein levels in cell culture.
Singh et al. conclude that although further validation is needed, their data suggest that overexpressed SIRT1 in melanoma cells acts in association with BUB3, BUB1 and BUBR1 signaling, thereby presenting a novel target for development of anti-cancer therapy.
References
1. Singh, C.K., et al. (2014, April) "Novel downstream molecular targets of SIRT1 in melanoma: A quantitative proteomics approach," Oncotarget, 5 (pp. 1987–99).
2. Singh C.K., et al. (2012) "Tenovin-1, a small-molecule inhibitor of SIRT1, imparts anti-proliferative response in human melanoma cells via p53 activation," Journal of Investigative Dermatology, 132 (pp. S123–S134), doi: 101038/jid201290.
Post Author: Amanda Maxwell. Mixed media artist; blogger and social media communicator; clinical scientist and writer.
A digital space explorer, engaging readers by translating complex theories and subjects creatively into everyday language.