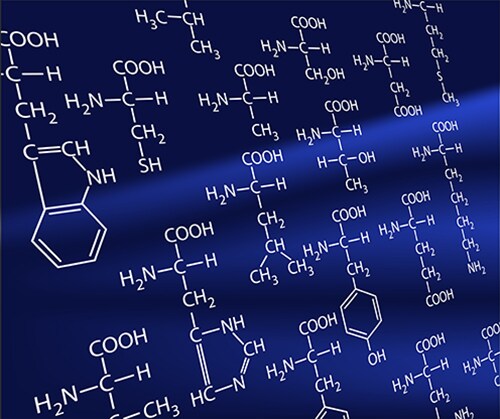 Human astrovirus (HAstV) is a cause of gastroenteritis mainly affecting children and immunocompromised individuals. Recently, Bogdanoff et al. (2016) combined X-ray crystallography and mass spectrometry to determine the amino acid sequence and glycosylation modification of the fragment antigen-binding (Fab) fragment of a potent HAstV-neutralizing monoclonal antibody (mAb), which is now usable in therapeutic medicine.1
While de novo sequencing is not new, the researchers explain that their work is unique because they began with prior knowledge of 95% of the 430 amino acid residues, either through previous work or identified by X-ray crystallographic data. Another advantage was an unexpected N-linked glycosylation site in Fab PL-2, allowing the team to use proteomics software searches with Byonic to determine the amino acid sequence and glycosylation modifications.
The researchers began by purifying the mAb Fab PL-2, which neutralizes HAstV in cell culture. The researchers purified Fab PL-2 from mouse ascites using a Protein A Plus column (Thermo Scientific). They then generated mAb PL-2 Fab fragments by incubating the purified mAb PL-2 overnight at 37°C. Next, they grew crystals to help determine the structure by way of analytical programs, namely Phaser, Phenix and Coot. They also assessed electron density maps of each amino acid side chain, observing molecular interactions. They used this initial Fab PL-2 sequence as a starting point for sequence determination by mass spectrometry.
For liquid chromatography and mass spectrometry, the researchers used four different proteases along with high-resolution tandem mass spectrometry. They analyzed intact Fab PL-2 on an EASY-nLC 1000 nano ultra-high-performance liquid chromatograph (UHPLC) coupled to an Orbitrap Fusion Tribrid mass spectrometer (both Thermo Scientific). They also analyzed reduced Fab PL-2 using the same mass spectrometry system. To analyze digested Fab, the researchers used an EASY nLC-1000 nano UHPLC coupled to a Q Exactive mass spectrometer (both Thermo Scientific).
Now armed with spectra, the team determined unknown amino acids by looking for FASTA hits in Byonic. The team then used this information to engineer a recombinant antibody single-chain variable fragment with the same specificity as the parent mAb to bind to the astrovirus capsid protein.
The researchers encourage other investigators to characterize additional mAbs to further enhance therapeutic diagnostics and treatment strategies.
Reference
1. Bogdanoff, W.A., et al. (2016) "De novo sequencing and resurrection of a human astrovirus-neutralizing antibody," ACS Infectious Diseases, 2(5) (pp. 313–321), doi: 10.1021/acsinfecdis.6b00026.

Post Author: Emily Humphreys. Emily has previous research experience in eye development, infectious diseases, and aging. Emily has been a regular contributor to Accelerating Science since 2012.