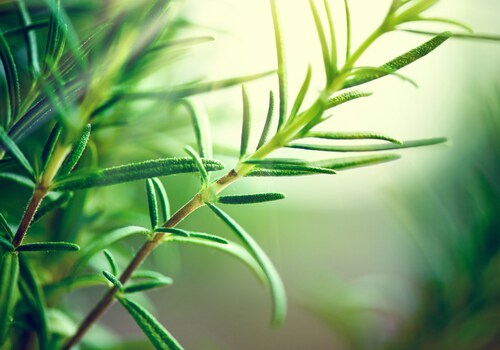 When many people think of the herb Rosmarinus officinalis, or rosemary, they envision a tasty addition to a meal. Rosemary extract also possesses antioxidant, anti-inflammatory, chemoprotective and anti-proliferative properties. It has these abilities due to its phenolic constituents, namely carnosic acid, carnival and rosmarinic acid. Rosemary polyphenols induce intracellular redox imbalance as well as endoplasmic reticulum (ER) stress, and in various studies have also induced metabolic changes in colon cancer and leukemia cells. One reason these changes occur is that rosemary polyphenols, such as carnosic acid and carnival, activate the nuclear transcription factor Nrf2, which plays a role in regulating responses against oxidative stress. Additionally, these polyphenols trigger an unfolded protein response to alleviate endoplasmic reticulum stress.
Valdes et al. wanted to observe the effect that rosemary polyphenols have on HT-29 colon cancer cells.1 As the group previously performed some microarray studies to this effect, they now wanted to observe proteomic changes specifically due to the amount of polyphenols used over time. Looking at the amplitude and kinetic effects of rosemary polyphenols, the group used a nano-liquid chromatography-tandem mass spectrometry (nano-LC-MS/MS) system: the EASY-nLC II coupled with the Orbitrap Velos Pro mass spectrometer (all Thermo Scientific) to observe changes.
First, the group identified three critical doses of supercritical rosemary extract (SC-RE): 50% growth inhibition (GI50) at 16.2 µg/mL, total growth inhibition (TGI) at 26.3 µg/mL, and 50% lethal inhibition (LC50) at 38.7 µg/mL. The group observed the effects of these doses on HT-29 cells at 2, 6 and 24 hours. Using the LC-MS/MS system, they found that the colon cancer cells responded to TGI and LC50 concentrations of SC-RE over time, and they identified 1,909 distinct proteins in this analysis. The group referred to their previous study including microarray data for a similar experiment setup and were able to whittle the proteins of interest to those involved in detoxification and antioxidation, NADPH generation, autophagy and lysosomal degradation, ER chaperones, cytosol chaperones, amino acid uptake and metabolism, and nuclear transport.
The group next used upstream regulator (UR) analysis to identify factors involved in protein changes induced by SC-RE at the 24-hour time point. UR analysis predicted both Nrf2 (consistent with previous publications) and C/EBPalpha activation, which occurred at all three concentrations of SC-RE tested. These findings are supported by the upregulation of a number of proteins identified in the nano LC-MS/MS experiment, including proteins related to antioxidant response, NADPH generation and detoxification. UR also showed that TGI and LC50 concentrations of SC-RE also activated Atf4 and Xbp1, two transcription factors tightly linked to unfolded protein response.
Finally, the group observed the autophagy and protein aggregation responses of HT-29 cells to SC-RE. To accomplish this, they incubated cells with a non-toxic dose of the autophagy inhibitor chloroquine (CQ) at the LC50 or TGI concentrations of SC-RE for both 24 and 48 hours. Co-incubation of SC-RE at the TGI concentration along with CQ was no different than incubation with SC-RE at the TGI concentration alone at either the 24- or 48-hour time points. Co-incubating SC-RE at the LC50 concentration with CQ for 48 hours but not 24 hours showed a recovery of cell growth, indicating that autophagy activation in combination with long-term exposure to LC-RE provides cytoprotection.
This study—possibly the first to study the bioactivity of SC-RE using high-resolution mass spectrometry—shows that rosemary polyphenols have the ability to induce proteomic changes that align with aggresome formation and autophagy activation to alleviate cellular stress.
Reference
1. Valdes, A., et al. (2016) "Comprehensive proteomic study of the anti proliferative activity of a polyphenol-enriched rosemary extract on colon cancer cells  using nano-liquid chromatography-orbitrap MS/MS," Journal of Proteome Research [Epub ahead of print]. doi: 10.1021/acs.jproteome.6b00154.
Post Author: Rebecca Easley Carpio.