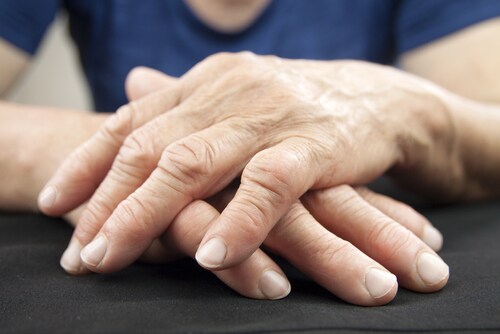 Imagine being able to pre-determine success when choosing a drug combination for a patient. Selecting those individuals most likely to respond well to a complicated or expensive treatment regime could minimize unnecessary side effects and provide truly personalized medicine. This already occurs every day when clinicians use their expert diagnostic judgment, but now researchers have launched an investigation into the realm of serum markers that could potentially complement and refine existing processes.
Obry et al. (2014) sought to achieve this goal in patients with rheumatoid arthritis (RA), prior to initiating combined methotrexate/etanercept therapy (MTX/ETZ).1 The researchers subjected pre-treatment serum and peripheral blood mononuclear cell (PBMC) samples to label-free mass spectrometric quantitation, examining levels of S100 proteins previously identified as altered in RA2 and comparing them with responses to treatment parameters collected over the first 12 months of MTX/ETZ combination therapy.
The research team examined PBMC samples collected from six patients with confirmed RA prior to initiating the combination treatment. They isolated the PMBCs from blood samples using density gradient centrifugation before lysing the cells to harvest proteins. Following separation using sodium dodecyl sulfate–polyacrylamide gel electrophoresis (SDS-PAGE), the scientists lysed the relevant bands via in-gel trypsinization; they examined the resulting peptides with liquid nanochromatography followed by tandem mass spectrometry (nanoLC-MS/MS) using an Orbitrap Elite hybrid ion trap-Orbitrap mass spectrometer (Thermo Scientific). Obry et al. compared the resulting data against the SwissProt database for human peptides, focusing on those corresponding to proteins S100A9 (calgranulin B or MRP14) and S100A8 (calgranulin A or MRP8).
The researchers found elevated levels of both S100A8 and S100A9 in pre-treatment PBMCs from three patients in their initial study group. These individuals subsequently showed good response to MTX/ETZ treatment, according to validated clinical scoring parameters.
The team then examined serum levels of the two S100 proteins in a larger cohort of 22 patients, taking samples as before, i.e., prior to initiating MTX/ETZ treatment. Using similar methodology, nanoLC-MS/MS results showed that only serum S100A9 levels were higher in those patients who responded to treatment (as compared to those who did not show improvement); S100A8 levels did not differ. Furthermore, they noted that three of the specific S100A9 peptides showed increased abundancies in responders, compared with those who did not respond to treatment.
The researchers confirmed their results using an enzyme-linked immunosorbent assay (ELISA) for absolute quantitation. The assay showed no difference in S100A8 levels between responders and non-responders. They also found no difference between the two groups in levels of calprotectin, a circulating S100A8/S100A9 heterodimer.
In summary, Obry and co-authors suggest that serum S100A9 levels could be a useful predictor of response to MTX/ETZ in patients with RA. They suggest further validation in a larger cohort of patients, in addition to investigating the biomarker along with other indicators of disease.
References
1. Obry, A., et al. (2014, December) "Identification of S100A9 as biomarker of responsiveness to the methotrexate/etanercept combination in rheumatoid arthritis using a proteomic approach," PLOS ONE 9(12) (p. e115800), doi: 10.1371/journal.pone.0115800.
2. Sinz, A., et al. (2002) "Mass spectrometric proteome analyses of synovial fluids and plasmas from patients suffering from rheumatoid arthritis and comparison to reactive arthritis or osteoarthritis," Electrophoresis, 23 (pp. 3445–56).
Post Author: Amanda Maxwell. Mixed media artist; blogger and social media communicator; clinical scientist and writer.
A digital space explorer, engaging readers by translating complex theories and subjects creatively into everyday language.