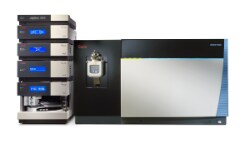 Now that researchers can identify proteins in a complex biological matrix with confidence using mass spectrometry-based proteomics analysis, they are keen to use the technology more dynamically. Qualitative assessment is leading to a quantitative approach, across multiple samples, for exploring biological systems in the hunt for disease biomarkers, interactome characterization, and the mapping out of drug sensitivities.
Scientists at Thermo Fisher Scientific, in collaboration with researchers at the University of Washington, have developed a data-independent acquisition (DIA) workflow—tailored for detecting low-abundance proteins within complex biological matrices—that is accurate, sensitive and reproducible for comparison across samples.1 Their wide selected-ion monitoring (WiSIM)-DIA method exploits the high resolving power and rapid tandem mass spectrometry (MS/MS) data acquisition of Thermo Scientific's Orbitrap Fusion Tribrid mass spectrometer to deliver reproducible, targeted proteomics data.
Kiyonami and colleagues (2014) optimized the new workflow, based on wide isolation window, high-resolution and accurate-mass (HRAM) MS/MS data generation, to minimize interference from contaminating fragment ions created during the analysis of complex organic matrices, such as biological samples. They accomplished this by parallel scanning ion microscope (SIM), sequentially collecting HRAM SIM spectra from a wide isolation window set at m/z 200 in the Orbitrap Fusion Tribrid for quantitation, with additional collision-induced dissociation (CID) MS/MS spectra gathered across a much narrower m/z ratio in the linear ion trap detector, for peptide confirmation. This workflow selectively enriches the target analytes so that low-abundance peptides are detected and quantified.
In order to explore and validate their workflow, the scientists created three different experimental procedures, using Pinpoint software v.1.3 to extract targeted qualitative and quantitative data after acquisition.
First, they prepared a serial dilution series (from 0.01 fmol/μL to 100 fmol/μL) of 14 isotopically labeled synthetic peptides spiked into an E. coli digest used as a complex biological matrix. With the sequential SIM acquisitions set within a 200 m/z isolation window, the workflow achieved lower limits of detection at 0.01 fmol/μL, with coefficients of variation (CVs) of spiked peptides in triplicate runs below 15% at concentrations of 0.1 fmol/μL and above.
For the next validation step, Kiyonami et al. ran six bovine protein digests spiked at concentrations that mimicked low- and high-abundance levels representative of biological samples. Running the spiked E. coli sample in triplicate, the team found that 90% of the peptides had CVs less than 10%, with good lower limits of detection observed.
As a final test of the new workflow, the scientists compared 500 ng and 250 ng on column samples of the E. coli digest with each other as a large-scale, high-throughput test, running each sample in triplicate. Following preliminary work constructing an E. coli spectral library of 1,100 proteins, they identified 5,923 peptides (1,090 proteins; 98% coverage) with the WiSIM-DIA workflow. More than 97% of the proteins identified correctly reflected the two-fold change in abundance between the 250-ng and 500-ng E. coli digest samples. Moreover, 85% of the peptides quantified showed CVs of less than 15%, confirming the suitability and reproducibility of the WiSIM-DIA workflow for large-scale protein quantification across different experimental runs.
Reference
1. Kiyonami, R., et al. (2014) "Large Scale Targeted Protein Quantification Using WiSIM-DIA on an Orbitrap Fusion Tribrid Mass Spectrometer," Thermo Scientific Application Note 600.
Further Reading
Orbitrap Fusion Tribrid mass spectrometer feature sheet, available at http://www.thermoscientific.com/en/product/orbitrap-fusion-tribrid-mass-spectrometer.html
Search the Planet Orbitrap science library for more tech notes: http://planetorbitrap.com/library
Thermo Scientific at ASMS 2014: http://event1.thermoscientific.com/content/ASMS?en=TURL
Post Author: Amanda Maxwell. Mixed media artist; blogger and social media communicator; clinical scientist and writer.
A digital space explorer, engaging readers by translating complex theories and subjects creatively into everyday language.