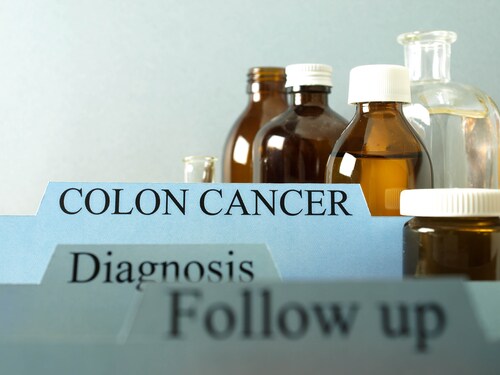 Colorectal cancer (CRC) is both prevalent and associated with high mortality rates. Because current protocols for diagnosis are invasive and unpleasant, early diagnosis is uncommon. Clinicians believe that sensitive, specific serum biomarkers drawn from a simple blood test may be key in early detection and treatment of CRC. Recently, Fan et al. combined magnetic bead separation, matrix-assisted laser desorption/ionization–time-of-flight mass spectrometry (MALDI-TOF MS), and Orbitrap-based (Thermo Scientific) tandem mass spectrometry (MS/MS) for the global identification of CRC serum biomarkers.1
The researchers collected 1-ml serum samples from 72 CRC patients and 70 healthy volunteers. These were split evenly into two groups: one (the model construction group) for the identification of differentially expressed proteins and patterns for diagnosis, and the other (the external validation group) for independent confirmation of these diagnosis patterns.
Fan et al. subjected the samples to separation by magnetic beads followed by the MALDI-TOF MS. They measured three MALDI spots (1,600 acquired spectra) per fraction. The parameters for detection were >5 signal-to-noise ratio, 2 Da peak width filter, and 200 maximum peaks. They used an internal standard to normalize the peak intensities. Using ClinProt Tools software to visualize and statistically analyze the data, the researchers developed a class prediction model for protein patterning via genetic algorithm, cross-validating it using a random sample from the model construction group. They also created a double-blind classification algorithm for verification with the external validation group.
For direct identification of selected proteins, the researchers used an LTQ Orbitrap XL mass spectrometer (Thermo Scientific) for collision-induced dissociation (100,000 resolution, 400–2,000 m/z scan range), followed by MS/MS with the 10 most intense ions selected as parent ions. They searched the resultant fingerprints against the International Protein Index for protein identification. For the external validation group samples, the team used electrochemiluminescent immunoassay for independent detection.
Fan et al. detected 71 m/z values in the 600–20,000 Da range. From these, they found 24 proteins with statistically significant differential expression (15 down-regulated, 9 up-regulated). The genetic algorithm selected 6 of these signals (m/z 1,208, 1,467, 1,505, 1,618, 1,656 and 4,215) to serve as a diagnostic cluster for distinguishing between CRC and healthy serum. This combination presented a 98.25% recognition capacity (96.55% sensitivity, 100% specificity) and correctly classified all samples in cross-validation. Within the external validation group, the model achieved 94.44% sensitivity and 94.29% specificity. This compares favorably with the existing biomarker, carcinoembryonic antigen, which displays only 48.57% sensitivity and 52.78% specificity.
The researchers further note that the combination of two of the signals, in particular—m/z 1,505 and 1,618—can distinguish between CRC and healthy serum and could serve as potential markers in immunoassay trials. They identified these entities as alpha-2-HS-glycoprotein precursor and tubulin beta chain, respectively. Both proteins were up-regulated in the present study. Fan et al. believe that their classification model not only identifies potential disease markers but also offers insight into the pathogenesis of CRC, perhaps even assisting clinicians in tailoring patient-specific treatment. They call for further investigation of both identified proteins.
Reference
1. Fan, N.-J., et al. (2014) "Identification alpha-2-HS-glycoprotein precursor and tubulin beta chain as serology diagnosis biomarker of colorectal cancer," Diagnostic Pathology, 9(53), doi: 10.1186/1746-1596-9-53, available at http://www.diagnosticpathology.org/content/9/1/53.

%MCEPASTEBIN%
Post Author: Melissa J. Mayer. Melissa is a freelance writer who specializes in science journalism. She possesses passion for and experience in the fields of proteomics, cellular/molecular biology, microbiology, biochemistry, and immunology. Melissa is also bilingual (Spanish) and holds a teaching certificate with a biology endorsement.