Scrapie, a transmissible spongiform encephalopathy affecting sheep, is a fatal neurodegenerative disease. As the disease progresses, normal brain prion proteins (PrPC) convert into protease-resistant isoforms (PrPSC), and the clinical signs of ataxia, pruritus and wasting develop. Although there is no evidence of direct transmission to humans, laboratory species such as rats and mice are susceptible to scrapie following experimental inoculation. In many countries, infected sheep are kept out of the food chain. Scrapie has notifiable status in many countries, including the United States.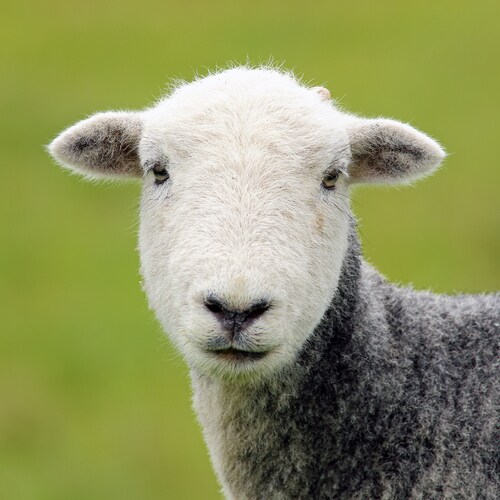 Scrapie is untreatable and rapidly fatal, with a concomitant reduction in herd productivity; for disease management reasons, farmers cull affected sheep as soon as possible to diminish the spread of infection. Early diagnosis of affected animals is therefore prudent, but unfortunately there is no simple systemic biomarker available for rapid testing. Meling et al. (2013) used surface-enhanced laser desorption/ionization–time-of-flight mass spectrometric (SELDI-TOF-MS) analysis in their hunt for a biomarker.1 They characterized the serum proteome of scrapie-infected sheep and then compared the data with uninfected controls.
The researchers inoculated one- to two-week-old lambs by mouth with homogenized pooled brain tissue from either healthy sheep (controls) or animals infected with classic scrapie. The team collected serum samples throughout the experimental period in addition to closely monitoring for clinical signs of the potentially developing disease. At 23 weeks post-inoculation, researchers slaughtered the lambs, removing brain material for confirmation of scrapie prions post-mortem. Meling et al. confirmed the presence of disease in both homogenized inoculate and post-treatment brain tissue at the week-23 slaughter via Western blotting using an antibody specific for PrPSC.
At week 23, all lambs inoculated with infected brain material showed signs of clinical disease, whereas none in the control group were affected. Moreover, principal component analysis of SELDI-TOF-MS data showed good segregation of results between the control and infected groups at this timepoint. The research team found that, compared to the control serum proteome, discrete SELDI peaks identified that 10 proteins were overexpressed in the infected cases. There were no differences seen at earlier timepoints (before the animals developed clinical signs). Meling and co-authors were confident that, even though variation was present between MS runs, the high-throughput SELDI-TOF approach in combination with multivariate analysis could discriminate healthy from scrapie-infected sheep at this timepoint.
The scientists then switched to a liquid chromatography–tandem mass spectrometry (LC-MS/MS) proteomics approach, using an LTQ Orbitrap XL hybrid ion trap-Orbitrap mass spectrometer (Thermo Scientific) to identify the differentially expressed proteins. They used Proteome Discoverer software revision 1.0 (Thermo Scientific) to analyze the raw data files, and then the SEQUEST algorithm to search data against the even-toed ungulate NCBI database.
Among the proteins identified, Meling et al. found elevated serum levels of serum amyloid A (SAA), a major acute-phase protein in sheep, in the samples from infected animals. Unfortunately, because this protein was only differentially expressed during the clinical end stage and is also raised during the acute phase of other diseases, SAA could not be used as a definitive biomarker for early scrapie diagnosis. The authors suggest that another –omics approach might benefit scrapie biomarker discovery, using methods more sensitive and less variable than SELDI-TOF-MS.
Although their study did not identify a definitive biomarker in early-stage, pre-clinical scrapie, the authors propose that their experimental design and findings further the understanding of the natural pathogenesis of this disease in sheep.
Reference
1. Meling, S., et al. (2013) "Investigation of serum protein profiles in scrapie infected sheep by means of SELDI-TOF-MS and multivariate data analysis," BioMed Central Research Notes, 6 (pp. 466), doi:10.1186/1756-0500-6-466.
Further Reading
Hartwig, N.R. (2000, April) "Scrapie of Sheep," Fact Sheet No. 9, Iowa State University, available at https://store.extension.iastate.edu/Product/Scrapie-of-Sheep-Sheep-Health-Fact-Sheet-No-9.
Post Author: Amanda Maxwell. Mixed media artist; blogger and social media communicator; clinical scientist and writer.
A digital space explorer, engaging readers by translating complex theories and subjects creatively into everyday language.