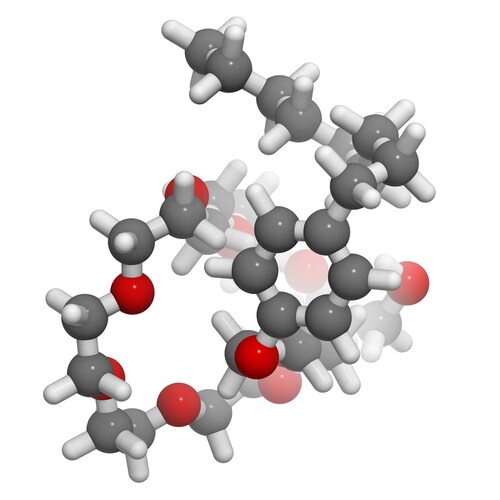 Nonoxynol-9 (N-9) is a non-ionic polyethoxylated alkylphenol mixture that serves as the active spermicidal ingredient in many over-the-counter contraceptives. In addition to disrupting the surface lipid layer of the spermatozoa, rendering them incapable of fertilization, the compound also offers broad-spectrum protection against some sexual transmitted infections (STIs), including chlamydia, gonorrhea, herpes and even HIV. Unfortunately, despite over 60 years of consumer use, recent findings suggest that N-9 may actually produce vaginal lesions and even increase susceptibility to STIs that include HIV. This disruption of the vaginal epithelium also brings up questions about systemic absorption of N-9 and the overall safety of contraceptive use.
For this reason, Chhonker et al. (2014) turned to liquid chromatography–tandem mass spectrometry (LC-MS/MS) to enhance existing knowledge of the pharmacokinetics of N-9 and its stability in simulated vaginal fluid (SVF).1 To assess pharmacokinetics, the team vaginally administered N-9 (100 and 300 mg/kg) to laboratory rabbits and collected blood samples at post-administration intervals (15 min, 30 min, 45 min, 1 hour, 2 hour, 3 hour, 4 hour, 6 hour and 8 hour). To measure stability in vaginal fluid, they incubated N-9 (200 ng/mL) in SVF for specific time periods (0 min, 15 min, 30 min , 45 min and 60 min). The team subjected the collected rabbit plasma and SVF samples to simple protein precipitation followed by LC-MS/MS using an Accucore C18 LC column (Thermo Scientific) and an Applied Biosystems API-4000-Q-Trap mass spectrometer. They processed the raw data using PE Sciex Analyst software.
In terms of pharmacokinetics, the team found LC-MS/MS sensitive for the quantification of N-9 in plasma up to 10 hours post-administration. They report a mean peak concentration of 4.87 ± 0.37 ng/mL at 1 hour post-administration. They also found that the plasma concentration decreased rapidly and eliminated with a terminal half-life of 1.45 ± 0.07 hours. For pH-dependent stability (pH 4.2), the team reports that N-9 was stable for up to 15 days in rabbit plasma, including three freeze thaw cycles, for up to 6 hours benchtop and for a full 24 hours in the auto sampler.
Chhonker et al. report many advantages for their LC-MS/MS protocol, including dynamic range (0.195–100 ng/mL), small sample requirements for protein precipitation (50 uL plasma), and sensitive lower limit of quantification (0.195 ng/mL). Overall, they present this validated LC-MS/MS approach as a robust tool for future studies, including detailed pharmacokinetic profiling, tissue distribution and dose escalation, in the interest of promoting consumer safety and women's health.
Reference
1. Chhonker, Y.S., et al. (2014, August) "Quantitative determination of microbicidal spermicide 'nonoxynol-9' in rabbit plasma and vaginal fluid using LC–ESI–MS/MS: Application to pharmacokinetic study," Journal of Chromatography B, 965 (pp. 127–32), doi: 10/1016/j.jchromb.2014.06.019.

Post Author: Melissa J. Mayer. Melissa is a freelance writer who specializes in science journalism. She possesses passion for and experience in the fields of proteomics, cellular/molecular biology, microbiology, biochemistry, and immunology. Melissa is also bilingual (Spanish) and holds a teaching certificate with a biology endorsement.