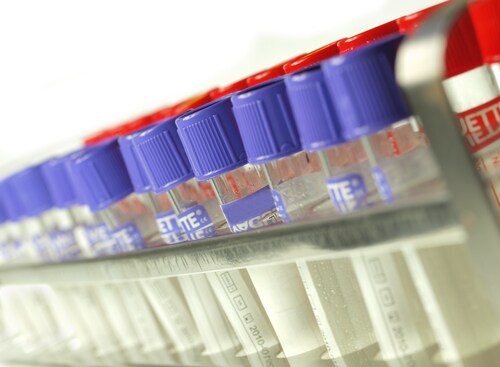 Alzheimer's disease (AD) is neurodegenerative disorder and a cause of dementia, most commonly among the elderly. While cognitive testing and examinations of cerebrospinal fluid (CSF) are capable of providing early diagnostics, there is no suitable test to measure disease progression.
With the goal of developing a test for AD in mind, Khoonsari et al (2016) analyzed the CSF of 10 AD patients and 10 healthy controls to look for potential biomarkers.1 They also performed brain imaging, routine laboratory testing, and neurological and cognitive examinations to get a more complete picture of the disease effects.
After collecting CSF, the researchers enriched low-abundance proteins by depleting seven highly abundant proteins: albumin, IgG, alpha-1-antitrypsin, IgA, haptoglobin, transferrin and fibrinogen.
The team dried samples using a Savant ISS110 SpeedVac Kit (Thermo Scientific) and then reconstituted them using the Multiple Affinity Removal System. Following this, they digested CSF samples with trypsin prior to analysis. To analyze proteins, the team relied on label-free shotgun mass spectrometry on an LTQ Orbitrap XL mass spectrometer (Thermo Scientific) fitted with a nano-electrospray ionization ion source. They also used a nanoflow system for online nano liquid chromatography separations.
Khoonsari and colleagues used five programs to process data: Decyder MS, MaxQuant, OpenMS, PEAKS and SIEVE software (Thermo Scientific). They included peptides with an false discovery rate lower than 0.05 as well as peptides found in more than 90% of replicates. They then compared the reproducibility and peptide identification, including three different normalization methods. They found that SIEVE software and OpenMS resulted in the highest reproducibility, while PEAKS had the highest identification performance. The combined results of all five programs revealed 162 statistically significantly altered proteins. Similarly, comparing AD and healthy controls, 31 proteins were differentially altered.
The team found eight of the low-abundance proteins had much lower expression in the AD patients compared to healthy controls (p < 0.05). These proteins are A2GL, APOM, C1QB, C1QC, C1S, FBLN3, PTPRZ and SEZ6. The proteins all vary in function, including cell adhesion and migration, and regulation of the synapse and the immune system.
Because the role played by these eight proteins in AD is still unknown, Khoonsari et al. are planning a larger study to verify the presence of these proteins in CSF.
Reference
1. Khoonsari, P.E., et al. (2016) "Analysis of the cerebrospinal fluid proteome in Alzheimer's disease," PLoS One, 11(3). doi:10.1371/journal.pone.0150672.
Post Author: Emily Humphreys. Emily has previous research experience in eye development, infectious diseases, and aging. Emily has been a regular contributor to Accelerating Science since 2012.