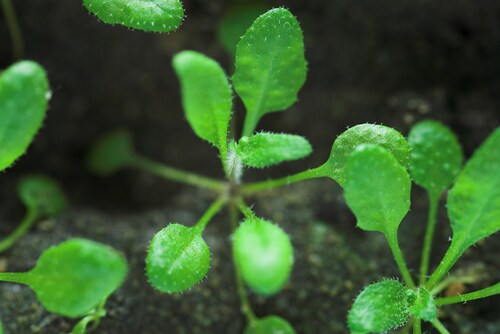 Research wouldn't be research without the buzz of brainstorming and improvisation to see just how far a technique can be pushed, adapted, tweaked and generally hacked into optimal performance. Majovsky and colleagues appear to have done just this in their paper describing a targeted proteomics approach that combines Orbitrap mass analyzer technology with parallel reaction monitoring (PRM) to investigate protein degradation pathways in plants.1
The scientists' main aim was to simplify quantitative proteomics by utilizing PRM with a targeted approach, as an alternative to developing a selected reaction monitoring (SRM) assay. The researchers, seeing a need to accurately measure low-abundance proteins and those with short half-lives, turned to triple quadrupole technology. They replaced the third quadrupole (Q3) with an LTQ Orbitrap Velos Pro hybrid ion trap-Orbitrap mass spectrometer (Thermo Scientific) in conjunction with an improved Fourier transformation algorithm, annotating the instrumentation setup as a QqOrbi hybrid. Their reasoning included enhanced ability for high-resolution/accurate mass monitoring that would measure all product ions.
First, the researchers assessed their workflow, evaluating it for specificity and dynamic range using trypsin digests of bovine serum albumin (BSA). Because their eventual experimental target was to characterize protein degradation pathways in plants involving N-end rule degradation (NERD) enzymes, they spiked varying concentrations of the BSA digests into Arabidopsis thaliana total protein extracts prior to PRM monitoring using the LTQ Orbitrap Velos Pro mass analyzer. Running samples in triplicate, Majovsky et al. achieved good linearity, with limits of detection at 100 amol.
Following this initial evaluation, the researchers used an existing shotgun data set as a reference for developing full-scan and narrow-mass-range mass spectrometry (MS) scanning in data-dependent acquisition mode (DDA). This reference data set comprised the proteomes of A. thaliana mutants possessing defective NERD pathway enzymes. The scientists based their MS measurement of the Arabidopsis peptides upon the results obtained previously for BSA, using the parameters established to set up assay operating conditions.
Further optimization of the system utilized a Pierce Peptide Retention Time Calibration Mixture (Thermo Scientific), which the researchers spiked into the Arabidopsis total protein matrix. Once they refined operating parameters, the scientists could identify more than half of the targeted peptides, representing an improvement in assay conditions for low-abundance proteins. Majovsky et al. found that setting the LTQ Orbitrap Velos Pro instrument to short duty cycle times in addition to utilization of a full scan picked up more of the low-abundance peptides and improved protein identification.
Once fully explored, the team then turned to evaluating the role of the NERD pathway in plant protein degradation, using engineered mutants to explore the various enzymes and associated factors. Their primary interest concerned the ubiquitin proteasome system, which is a key player in protein stability and thus regulates many cellular activities. Previous studies have already identified the importance of the NERD pathway, which marks certain proteins as potential substrates for specific ligases or N-recognins. Using their newly established workflow, the researchers were able to successfully identify and quantify alterations in NERD pathway components in proteomes extracted from 3-week-old A. thaliana wild-type and mutant seedlings.
In conclusion, Majovsky et al. consider that their targeted PRM approach accurately quantifies low-abundance and short-lived proteins in the NERD degradation pathway. They are confident that their method is a useful and versatile tool for targeted proteomics that does not require SRM assay development.
Reference
1. Majovsky, P., et al. (2014, August) "Targeted Proteomics Analysis of Protein Degradation in Plant Signaling on an LTQ-Orbitrap Mass Spectrometer," Journal of Proteome Research, 13 (pp. 4246–58), doi: 10.1021/pr500164j.
Post Author: Amanda Maxwell. Mixed media artist; blogger and social media communicator; clinical scientist and writer.
A digital space explorer, engaging readers by translating complex theories and subjects creatively into everyday language.