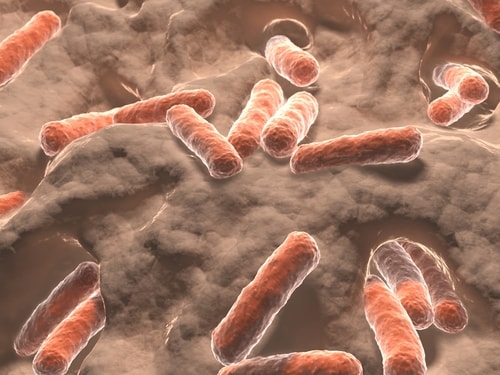 Research into obesity has recently turned to examining the gut microbiome for clues. Although nutrition and dietary habits are key determinants in both development of and treatment for obesity, researchers like Kolmeder et al. (2015) are now characterizing the potential role that the microbial population within the intestines plays.1 In a recent publication, the research team used mass spectrometric analysis to characterize the colonic metaproteome in obesity, looking at changes in protein signatures from both host and microbial population during obesity.
Previously, studies examining the gut microbiome used genomic strategies to define changes in population between test subjects. Kolmeder et al. argue that by examining the proteome, they can characterize biological activity and its potential to contribute to the state of obesity. Since proteins are the product of living cells, metaproteomic analysis gives information on not only microbial viability but also enzymatic and thus metabolic activity within the terminal gut.
The study used fecal samples collected from 29 individuals categorized according to body mass index (BMI; kg/m2). The study population comprised 9 individuals with a normal BMI, 4 who were overweight according to BMI and 16 classified as obese. For subsequent comparison and data analysis, however, the researchers divided the subjects into two groups: non-obese, with a BMI below 30 kg/m2, or obese, with a BMI above 30 kg/m2.
The researchers extracted and separated proteins using 4–12% Bis-Tris gel electrophoresis. They digested the proteins within the gels using trypsin, then examined them by reverse phase liquid chromatography followed by tandem mass spectrometry (LC-MS/MS). The team accomplished this using an EASY-nLC II nano high-performance LC system coupled with an Orbitrap Elite hybrid mass spectrometer (both Thermo Scientific). Once they obtained the spectral data, Kolmeder et al. identified proteins by referring to the human intestinal metaproteome database, which covers bacteria and plant proteins commonly found in the gut alongside those of human origin.
Mass spectrometric analysis of the fecal samples gave a total of 893,007 MS/MS spectra. From this, the team used two different search engines to improve the protein identification rates. From these results, Kolmeder et al. obtained microbial phylum data in addition to proteomics signatures that established biological and metabolic activity within the lower intestine. The team used these results to look at differences in the total colonic metaproteome, microbial population, and enzymic activity between obese and non-obese subjects.
LC-MS/MS analysis showed a difference between obese and non-obese subjects at the metaproteome level. When characterized, these changes reflected differences in carbohydrate metabolism, with altered abundances of key enzymes. Although the core proteome in obese subjects was similar to the non-obese individuals, the researchers found increased levels of certain proteins linked with inflammation. From cluster analysis, the team could identify obese from non-obese subjects. In other analyses, the researchers found correlations between insulin sensitivity and some of the metaproteome data.
At the microbial level, they also noted that the microbial population changed, with an increase in Bacteroides species in the obese subjects. They also found increased levels of Bacteroides enzymes in conjunction with increased serum C-reactive protein levels in the obese subjects.
It is not possible to establish the exact sequence of events in the gut, or to show definitively whether an alteration in the colonic metaproteome precedes development of obesity or is simply a result of weight gain. However, Kolmeder et al. believe that characterizing the colonic metaproteome is a valid indicator of the effect of obesity on lower intestinal biological activity. With these results, it is also possible to examine how altered gut microbiota might affect colonic function in obesity.
Reference
1. Kolmeder, C.A. et al. (2015) "Colonic metaproteomic signatures of active bacteria and the host in obesity," Proteomics 15 (pp.3544-52). doi: 10.1002/pmic.201500049.