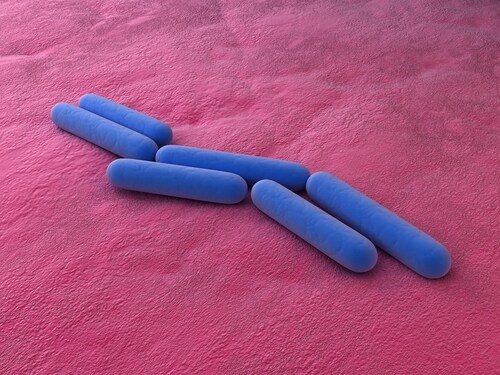 Dale Yuzuki of the Behind the Bench1 blog (Thermo Fisher Scientific) recently highlighted a talk given by Pieter Dorrestein at the 2014 American Society for Microbiology meeting. This presentation addressed broadening the central dogma of molecular biology to include a fourth branch devoted to metabolomics. In 2012, Dorrestein's laboratory moved one step closer to the so-called "holy grail" of microbiology, the integration of chemistry and genomics. In their study, the research team (Watrous et al., 2012) used nanospray desorption electrospray ionization mass spectrometry (nanoDESI MS) to perform direct chemical monitoring of an active microbial colony, along with mass spectral molecular networking to visualize its spatiotemporal metabolomics.2
NanoDESI establishes a primary line to delicately release solvent onto the sample surface while employing a second line to create a liquid bridge. From this bridge droplet, researchers can desorb analytes for injection into the MS instrument, with minimal disturbance to the sample. The team applied this technique coupled to two platforms in two separate laboratories: with their use of the LTQ Orbitrap hybrid ion trap-Orbitrap and the LTQ FT ion cyclotron resonance mass spectrometers (both Thermo Scientific), they demonstrated high reproducibility.
A major benefit of this technique is that its simplicity enables even non-chemists to study metabolic exchange among multi-species microbial colonies. Because metabolic exchange, or the harnessing of secreted factors for communication and environmental manipulation, impacts every area of microbial life, including basic functions (motility, sporulation, etc.) and complex social interactions (syntrophy, quorum sensing, etc.), the potential impacts of the tool are profound and straddle multiple research fields.
Watrous et al. first tested the method using a single-species (Bacillus subtilis) colony with well-defined secreted factors. They found nanoDESI to be sensitive for the identification of metabolic exchange compounds when compared to both MALDI thin-layer agar analysis and desorption electrospray ionization imprinting. They note that the label- and tag-free setup requires almost no preparation and yields nearly instantaneous characterization of the sample surface.
Because the samples aren't enriched, resultant data sets contain a wide range of compounds. Many of these are highly specific and require labor-intensive manual interpretation. The team relied upon Cytoscape freeware to construct a visual molecular network using simplified consensus spectra (nodes) based on fragmentation similarities. In this way, the researchers mapped the complex interactions within the colony and even classified "known unknowns" with potential biological relevance.
The researchers also applied the strategy to colonies containing multiple species, including Streptomyces coelicolor, Serratia marcescens, Mycobacterium smegmatis and Pseudomonas aeruginosa. Molecular networking revealed a variety of compounds, including quorum-sensing molecules (quinolones and peptides), glycolipids, antibiotics, pigments and oligosaccharides. The team further noted large clutches of unannotated nodes, reiterating the applicability of the method for detecting very diverse and even unknown compounds. They further report characterization of intact colonies of approximately 50 different microbes using this protocol.
Watrous et al. then performed time-course experiments with B. subtilis samples. These produced approximately 4,000 MS/MS time-dependent spectra over 60 hours and revealed specific production windows for the structural variants of several metabolites (cyclic peptides surfactin, plipastatin and subtilosin) and potential regulatory mechanisms for sublancin production. The researchers also used B. subtilis and S. coelicolor to confirm previously reported signaling factors, revealing nanoDESI and molecular networking to be robust for the analysis of spectral relationships between microbial species residing in a single colony.
Finally, the team used nanoDESI to identify a compound that has eluded researchers using traditional techniques. This monochlorinated lipopeptide, thanamycin, is responsible for the antifungal capacity of Pseudomonas sp. strain SH-C52 and, according to this study, secretes transiently in low quantities. The researchers partially characterized the analyte and, at the time of writing, they continue to investigate its structure and bioactivity.
Overall, Watrous et al. posit that this method is a powerful tool for classifying metabolic exchange within live microbial colonies while edging towards a "Rosetta stone," or key, to open wide the current understanding of microbial language. Dale Yuzuki notes that the functional outgrowth of this study, Global natural Products Social Molecular Networking (GnPS), allows researchers to map small molecular changes between bacteria and marries the genomics-based notion of sequence homology algorithms with microbiology pursuits.
References
1. Yuzuki, D. (2014) "At the intersection of the 16S metagenomics using next-generation sequencing and metabolomics using Mass Spectrometry," Behind the Bench.
2. Watrous, J., et al. (2012) "Mass spectral molecular networking of living microbial colonies," Proceedings of the National Academy of Sciences, 109(26) (pp. 10150–1), doi: 10.1073/pnas.1203689109.
Post Author: Melissa J. Mayer. Melissa is a freelance writer who specializes in science journalism. She possesses passion for and experience in the fields of proteomics, cellular/molecular biology, microbiology, biochemistry, and immunology. Melissa is also bilingual (Spanish) and holds a teaching certificate with a biology endorsement.