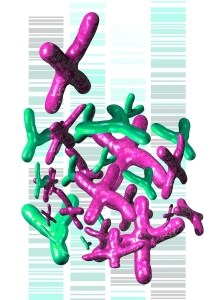 As part of the Chromosome-centric Human Proteome Project (C-HPP), researchers have begun mapping the male-specific region of the Y chromosome (MSY). The larger goal of the project is to bring clarity to the cell-level functioning of the entire human proteome in the hopes that this information may aid researchers and medical professionals in developing protocols for the diagnosis and treatment of human disease. This particular portion of the project addresses the sex-specific traits and diseases encoded in the MSY.
The Y chromosome is approximately 60 Mb in size and consists of the MSY and two small pseudoautosomal regions flanking each side. The MSY itself is composed of 60 identified genes, 40 of which possess well-documented protein-level evidence. Jangravi et al. (2012) focus on the 20 MSY genes that still lack protein-level research. Overall, the proteins of the MSY can be categorized based on molecular function: protein binding (19.6%), DNA binding (10.7%), RNA binding (7.1%), metal ion binding (7.1%), miscellaneous functions (5.3%), transcription factor activity (5.3%), transcription regulator activity (5.3%), transferase activity (3.5%), ATP binding (3.5%),translation activity (3.5%), esterase activity (3.5%), oxidoreductase activity (3.5%), kinase activity (1.7%), protease activity (1.7%) and helicase activity (1.7%).
In terms of biological processes, MSY proteins are involved in spermatogenesis (11.6%), transcription (10.0%), cell differentiation (8.3%), miscellaneous processes (8.3%), gonad development (6.6%), metabolic processes (6.6%), tissue development (5.0%), nucleosome assembly (5.0%), chromatin modification (5.0%), single fertilization (5.0%), translation (5.0%), sex differentiation (3.3%), cell adhesion (3.3%), RNA metabolism (1.6%), cell proliferation (1.6%) and sex determination (1.6%).
The researchers believe that MSY proteins may play roles in many human diseases and conditions, including prostate cancer, graft-versus-host disease, autism and nonsyndromic speech delay. There may also be differences in the way that a patient's biological sex impacts the pathophysiology of new-onset heart failure. Indeed, researchers posit that, because protein-level interactions exist as functional outputs of the cell, the most clinically useful information regarding disease state may be derived from proteome-based data mining. They point to the relationship between protein structure and function, the likelihood of MSY proteins acting as transcriptional regulators, and the six common posttranslational modifications (phosphorylation, ubiquitination, acetylation, methylation, deamination, and glycosylation or glycation) as likely sources of clinically relevant information.
The Human Y Chromosome Proteome Project, as a function of the C-HPP, has set specific ten-year goals in order to map all proteins encoded by genes in the MSY. The researchers identify mass spectrometry and antibody-based proteomics using both healthy and diseased tissues, combined with thorough evaluations of existing microarray and transcriptome data, as the preferred methods for this project. The researchers hope that, with the collaboration of the international community, this long-range study will reveal clinically significant information within the MSY.
REFERENCES
Jangravi, Z., et al. (2012) "A Fresh Look at the Male-specific Region of the Human Y Chromosome," Journal of Proteome Research, 12 (pp. 6–12), dx.doi.org/10.1021/pr300864k.