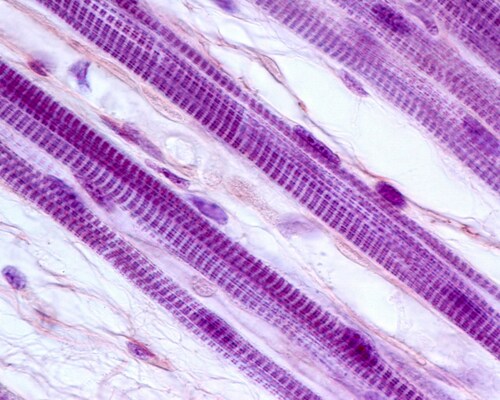 Although many lay readers consider stem cells as active only in the developing embryo, where they create new organs and body parts out of the conceptus primordial cellular soup, researchers now understand that stem cells play an equally important role in older bodies. Zhang et al. (2015)1 further add to this knowledge in their paper detailing arginine methyltransferase Prmt5 activity in Pax7+ skeletal muscle stem cells (MuSCs), which contributes to adult muscle maintenance and function.
Diminishing function of MuSCs, also known as satellite cells, is associated with muscle tissue loss due to aging.2 Furthermore, animal models with reduced or absent Pax7+ cells are unable to repair muscle tissue lost through disease or injury. Understanding pathways involved in their regulation is therefore important in developing therapeutic options for maintaining muscle function.
Zhang et al. employed mass spectrometric–based protein profiling to characterize MuSC populations derived from mice and sorted using fluorescence-activated cell sorting (FACS). After lysing the cells, they separated the proteins using sodium dodecyl sulfate–polyacrylamide gel electrophoresis (SDS-PAGE) before digesting the bands in situ using trypsin. They analyzed the peptide digests by liquid chromatography–mass spectrometry (LC-MS) using either an LC-LTQ Orbitrap XL or an LTQ Orbitrap Velos mass spectrometer (both Thermo Scientific).
The research team identified 135,341 peptides corresponding to 5,031 proteins, with 441 of these exclusively found in MuSC cells. Proteins identified included arginine methyltransferase Prmt5, which the researchers confirmed by immunofluorescence staining on fresh myofiber preparations. The researchers examined the function of the various proteins identified using an shRNA strategy to identify genes affected in Pax7+ cells, especially those involved in self-renewal, proliferation and differentiation.
Using a molecular (CreLox) knockout technique, Zhang et al. turned to examining the effect of this protein in vivo using various mouse models, including the mdx (Duchenne muscular dystrophy) strain. When the researchers abolished Prmt5, mutant mice could not regenerate muscle cells, as seen on cryosection and by magnetic resonance imaging (MRI). By isolating and examining these MuSCs, the team found reduced proliferation in conjunction with reduced myogenin (MyoG), a marker for muscle cell differentiation. Adding back Prmt5 functionality reversed both of these findings.
Zhang et al. then turned to examining the transcriptome to find genes affected by Prmt5 inactivation. Among their findings, the team saw upregulation of cell cycle inhibitor p21. Through analysis of this pathway, the researchers found that regulation of Pax7+ MuSCs by Prmt5 occurs through p21 repression, although this is not the exclusive pathway involved. The team found that this system is not important in embryonic muscle tissue where p21 repression by Prmt5 is "dispensable" during development.
In conclusion, Zhang et al. consider that Prmt5 keeps adult MuSCs in "a poised standby role" through epigenetic repression of p21 expression. In this environment, the normally quiescent MuSCs can rapidly respond to muscle trauma, thereby repairing the tissue and maintaining function. The team suggests that further studies on the role of Prmt5 in muscle dystrophies, muscle hypertrophy and rhabdomyosarcoma could yield valuable results.
References
1. Zhang, T., et al. (2015) "Prmt5 is a regulator of muscle stem cell expansion in adult mice," Nature Communications 6:7140, doi: 10.1038/ncomms8140.
2. Yin, H., Price, F., & Rudnicki, M. A. (2013) "Satellite cells and the muscle stem cell niche," Physiology Reviews 93(1) (pp.23–67).