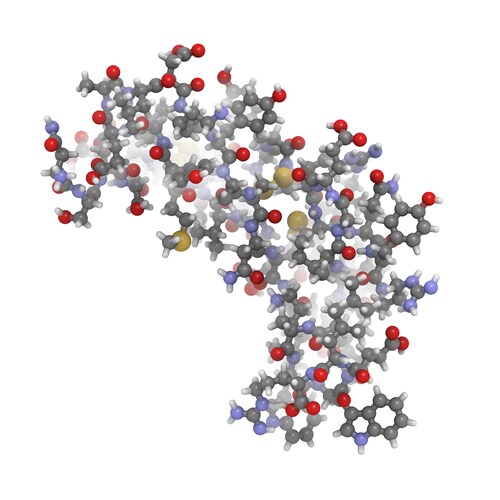 Proteomics techniques offer unrivaled opportunities for global protein assessment and, with this, the ability to discover novel disease biomarkers. In their recent article, Viglio and co-authors (2014) present a detailed literature review of papers published in the last decade that examines the pulmonary proteome and its relevance for research into respiratory disease.1
Noting that great advances have been made in this field, the reviewers present their summaries on a disease-by-disease, sample type-by-sample type basis, in order to orient their readers and guide them through the mass of available literature. Viglio et al. opine that, although the global overview offered by proteomics in terms of assessing protein–protein interactions, post-translational modifications, and the ability to quantify protein expression is an advantage, proteomics research into pulmonary disease lags behind its use in other body systems. They feel, however, that with continued improvements in sensitivity and specification, researchers will use these techniques more widely in the future.
According to the authors, the three most widely used proteomics techniques in the last decade are two-dimensional gel electrophoresis–mass spectrometry (2DE-MS), liquid chromatography–mass spectrometry (LC-MS) and capillary electrophoresis–mass spectrometry (CE-MS). Viglio et al. note that the latter two gel-free methods, LC-MS and CE-MS, are superseding the less sensitive 2DE-MS method, especially for analysis of low-abundance proteins. They state that their review concentrates on these micro- and nano- LC-based or CE-based separations involving MS and tandem MS (MS/MS). It is of interest that in all the papers reviewed, the authors identify the LTQ Orbitrap hybrid ion trap-Orbitrap mass spectrometer (Thermo Scientific) as the instrument of choice due to its high-accuracy and high-resolution performance, among other notable features.
Respiratory diseases covered in the research team's literature review include lung cancer, asthma, cystic fibrosis and chronic obstructive pulmonary disease (COPD), with additional reference to graft dysfunction and arterial hypertension. The reviewers present summaries of findings specific to each disease state and further sub-divide the review according to the samples analyzed. They also mention the benefit of sample enhancement prior to analysis using immunodepletion to remove highly abundant proteins that can mask potential biomarkers.
Lung cancer research, driven by the need for prompt and conclusive early diagnosis, has focused on analyzing the proteomes of in vitro cell lines, investigating the role of transforming growth factor β (TGFβ), p53 tumor suppressor gene deletion, and the epidermal growth factor receptor (EGFR) in the pathogenesis of malignancy. Researchers have also looked for novel biomarkers in serum and plasma, tissue biopsies, pleural effusion and urine.
In addition to plasma and serum, scientists have examined sputum, bronchoalveolar lavage fluid (BALf) and exhaled breath condensates (EBC) in the quest to discover biomarkers for diagnosing and monitoring the different types of asthma. Viglio et al. noted that scientists have now differentiated between two types of allergic asthma and can predict patient susceptibility to the exercise-induced form of the disease.
Researchers have also used EBC and BALf to investigate COPD. They found clear gender differences in BALf proteomes in early-stage disease. Because COPD is a condition that benefits from early intervention but presents heterogeneously, accurate and sensitive biomarkers are extremely valuable for differentiation and management of patients with this respiratory disease. Again, proteomics techniques may hold the answers.
Researchers interested in cystic fibrosis, a progressive, debilitating and frequently fatal disease of young people, are also using LC-MS techniques. Viglio et al. present the latest proteomics-based studies demonstrating that characterization of the lung proteome and the interactions among its members yields valuable information regarding the pathogenesis of cystic fibrosis. Both cell culture and serum samples have been examined.
Viglio and co-authors summarize their findings with a useful list of proteins that may fit requirements as potential novel biomarkers for disease diagnosis—although because respiratory pathologies frequently overlap (especially in the presence of inflammation), it may be difficult to conclusively define specific biomarkers for each disease studied.
However, by drawing parallels among the disorders utilizing what the reviewers describe as "common signatures," the research team suggests that the protocols listed will contribute to a greater understanding of respiratory disease. Future prospects include analysis of post-translational modifications that characterize pulmonary disease and exploration of formalin-fixed, paraffin-embedded tissue libraries for wider studies. Furthermore, with rapid advances in separation methods, quantitative proteomics and analytical software, proteomics will continue to contribute qualitative and quantitative profiles in the field of respiratory medicine.
Reference
1. Viglio, S., et al. (2014) "Respiratory Proteomics Today: Are Technological Advances for the Identification of Biomarker Signatures Catching up with Their Promise? A Critical Review of the Literature in the Decade 2004–2013," Proteomes, 2 (pp. 18–52), doi: 10.3390/proteomes2010018.
Post Author: Amanda Maxwell. Mixed media artist; blogger and social media communicator; clinical scientist and writer.
A digital space explorer, engaging readers by translating complex theories and subjects creatively into everyday language.