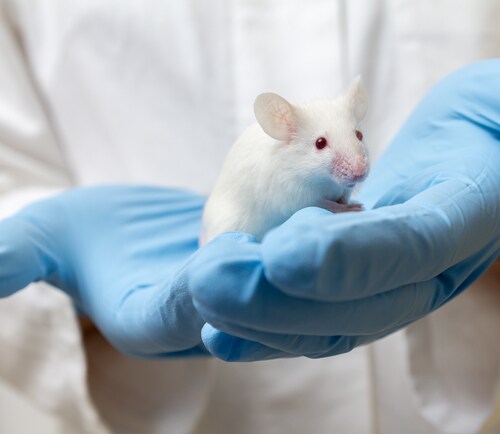 MacLeod and co-authors (2014) used information pinpointing the onset of testicular reproductive function to examine proteomic anomalies in a mouse model of infertility.1 They characterized regulation of proteins by phosphorylation, assessing the impact on effective spermatogenesis. By analyzing changes in the testicular phosphoproteome, the research team created a comprehensive dataset for other scientists.
Mice with a Ppp1cc gene deletion are infertile due to absent spermatogenesis. Products of this gene are PP1 Ser/Thr protein phosphatases found in many tissues, with specific elaboration of enzyme isoform PPP1CC2 in the testes. The scientists tested their hypothesis that, without dephosphorylation activity, certain proteins would remain functionally altered and thus inactive. Therefore, characterization of the testicular phosphoproteome would show the proteins interacting with Ppp1cc gene products that are potentially important for fertility.
Previous studies by the authors determined that for efficient pubertal testicular development, Ppp1cc gene products become essential at three weeks of age in mice, a time point at which testicular morphology is relatively unchanged by gene knockout. For this reason, the team used tissues from 3-week-old mice in their experimental design in order to examine the testicular phosphoproteome before anatomical changes were well defined. The reasoning behind this choice was that changes in phosphorylation status at this time point would be due to the absence of Ppp1cc gene products rather than any secondary effects of altered tissue morphology.
First, the team confirmed their experimental design with histological analysis of testicular tissue from Ppp1cc knockout mice. Compared with wild-type mice at three weeks old, the knockout mice showed that, despite some morphological changes in their seminiferous tubules, spermatogenesis was in progress. The researchers did, however, note several defects common to knockout mice, including cell sloughing and sperm defects.
Once they confirmed the experimental design, the researchers extracted testis proteins from both groups, digesting them with trypsin before subjecting the preparations to phosphopeptide enrichment. First, the team used a modified immobilized metal ion chromatography method, SIMAC, which they then followed with further TiO2 enrichment. They then examined the elutions via liquid chromatography–tandem mass spectrometry (LC-MS/MS) using an LTQ Orbitrap Velos hybrid ion trap-Orbitrap mass spectrometer coupled to an EASY nLC 1000 nano-chromatography system (both Thermo Scientific). They searched the raw data files using Proteome Discoverer software (version 1.3, Thermo Scientific), analyzing the files with SEQUEST software (also Thermo Scientific) against MOUSE-Uniprot-Sep-05-12.fasta.
From these data, the team identified 828 proteins and 1,026 phosphorylation sites in the phosphopeptide-enriched fractions (0.61% false discovery rate). Although the researchers found that the knockout mouse phosphoproteome contained 15% more phosphopeptide spectra than the wild types, this result was not significant (p=0.17). However, the team did identify a number of proteins (n=40) already implicated as products of genes from other mouse models of infertility.
Using a two-stage analytical approach, MacLeod et al. chose strong candidates for further evaluation. This approach included selection of proteins already known to associate with PP1. Concentrating on this group, the researchers found statistically significant increases in phosphopeptide abundance in mutant testis via extracted ion chromatogram quantitative analysis (32 peptides and 30 proteins; p<0.05). They identified some of these as proteins, such as SF3B1 and HSPA4, as being previously implicated in male infertility.
The team suggests that their comparative phosphoproteomic analysis and characterization associated with Ppp1cc gene deletion is an important resource for other researchers in the field of male infertility in mammals.
Reference
1. MacLeod, G., et al. (2014, March) "Comparative phosphoproteomic analysis of the mouse testis reveals changes in phosphopeptide abundance in response to Ppp1cc deletion," EuPA Open Proteomics, 2 (pp. 1–16), doi: 10.1016/j.euprot.2013.11.009.
Post Author: Amanda Maxwell. Mixed media artist; blogger and social media communicator; clinical scientist and writer.
A digital space explorer, engaging readers by translating complex theories and subjects creatively into everyday language.