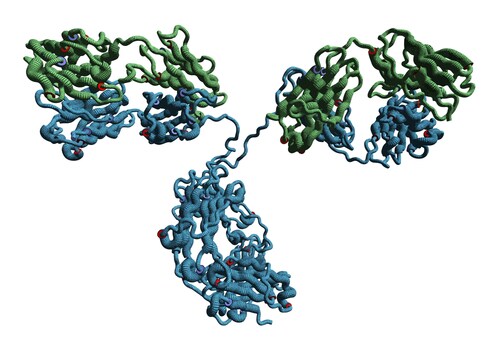 Within the field of recombinant protein therapeutics, monoclonal antibodies (mAbs) have emerged as a strong clinical option for the treatment of human disease, including cancer. There are currently over 40 mAbs and derivatives already approved for clinical applications and 30 additional mAbs in clinical investigations. All of these derive from the immunoglobulin G (IgG) class. Additionally, as current patents run out, biosimilar antibodies may emerge as therapeutic options.
For manufacturers and clinicians, access to protocols that demonstrate structural consistency and clinical efficacy are paramount, particularly in ensuring the correct amino acid sequence. The traditional sequencing method, bottom-up liquid chromatography−tandem mass spectrometry (LC-MS/MS), requires extensive sample preparation and may introduce artifacts. The obvious alternative, top-down MS, only provides up to 30% sequence coverage. Two other options are middle-up MS (proteolysis followed by measurement of large protein fragments or subunits) and middle-down MS, which also incorporates subunit sequencing.
Recently, Fornelli et al. examined a middle-down approach that combines electron transfer dissociation (ETD) with high-resolution Fourier transform mass spectrometry (FTMS) to sequence therapeutic mAbs Adalimumab, Bevacizumab and Trastuzumab.1 Following IgG oxidation, the researchers used IdeS (Immunoglobulin G-degrading enzyme of Streptococcus pyogenes) proteolysis before denaturing and reducing. They achieved chromatographic separation with an UltiMate 3000 LC system (Thermo Scientific Dionex) coupled to an electrospray source and followed by MS on an Orbitrap Elite mass spectrometer (Thermo Scientific). Overall parameters were 120,000 resolution at 400 m/z. For ETD, target values were 7−8 × 105 charges with a 50 ms maximum injection time. For data processing and analysis, the team used Xcalibur, Xtract and ProSightPC 3.0 software (all Thermo Scientific).
In order to directly compare with top-down MS, the researchers performed middle-down, ETD-based MS with multiple charge states (100 Th isolation window) on the Adalimumab fragments (Lc, Fc/2,and Fd) and achieved 58.60−68.50% sequence coverage. This included sequencing all of the complementarity determining regions (CDRs) for all fragments, as well as the glycosylation site and Lys-clipping for one fragment (Fc/2). Using one charge state per precursor ion (15 Th isolation window), they obtained slightly lower sequence coverage for Bevacizumab and Trastuzumab, but did sequence all of the CDRs and confirmed both the glycosylation site and the Lys-clipping. Fornelli et al. note that even with a single run, they achieved excellent sequence coverage for the Adalimumab fragments (~50% for Fc/2 and Lc, and ~30% for Fd). They posit that previously reported modifications2 and instrumentation upgrades3 that enhance ETD efficiency may produce even greater sequence coverage.
To access the method's applicability specific to post-translational modifications, the research team used middle-down MS to effectively identify and locate oxidation sites on Adalimumab fragments. Finally, they verified the middle-down method by applying it to an equimolar mixture of monoclonal IgGs. They separated most fragments, with the exception of two co-eluting fragments and the Fc/2 fragments, which contained over 90% sequence homology. Overall, they found a good signal-to-noise ratio and sufficient spectra to render the method appropriate for sequencing IgG mixtures or therapeutic cocktails.
Fornelli et al. indicate that the middle-down method is a fast, reliable protocol that doubles the traditional top-down approach's sequence coverage, at the same time requiring minimal sample preparation and reducing the introduction of artifacts. With the application of advances in the field, they present the middle-down approach as an excellent alternative for the structural analysis of complex mAbs necessary for drug discovery.
Interested in reading more about Easy-ETD? See Accelerating Proteomics' recent article at https://www.thermofisher.com/blog/proteomics/easy-etd-orbitrap-for-efficiency-and-usability.
References
1. Fornelli, L., et al. (2014) "Middle-Down Analysis of Monoclonal Antibodies with Electron Transfer Dissociation Orbitrap Fourier Transform Mass Spectrometry," Analytical Chemistry, 86(6) (pp. 3005−12), doi: 10.1021/ac4036857.
2. Rose, C. , et al. (2013) "Multipurpose Dissociation Cell for Enhanced ETD of Intact Protein Species," Journal of the American Society of Mass Spectrometry, 24 (pp. 816−27).
3. Earley, L., et al. (2013) "Front-End Electron Transfer Dissociation: A New Ionization Source," Analytical Chemistry, 85 (pp. 8385−90).
Post Author: Melissa J. Mayer. Melissa is a freelance writer who specializes in science journalism. She possesses passion for and experience in the fields of proteomics, cellular/molecular biology, microbiology, biochemistry, and immunology. Melissa is also bilingual (Spanish) and holds a teaching certificate with a biology endorsement.