Because the proteome is both vast and complex, the tasks associated with drug discovery—characterization of underlying mechanisms and affinity for all potential drug targets—can be formidable. One emerging technique, cellular thermal shift assay (CETSA), measures changes in thermal stability as a result of ligand binding, allowing researchers to monitor target engagement. Savitski et al. (2014) exploited this strategy, coupled with multiplexed quantitative mass spectrometry (MS) on a Q Exactive hybrid quadrupole-Orbitrap mass spectrometer (Thermo Scientific) to characterize protein stability in response to cancer drugs.1
To do this, the team employed isobaric mass tagging reagents (TMT10plex, Thermo Scientific) and high-resolution MS to monitor thermal stability over 10 temperature points for 5,299 proteins from human K562 chronic myeloid leukemia cells. They then compared the specific melting temperatures for each protein from both vehicle-treated and drug-treated samples. The resulting curves show the increase in protein aggregation with temperature and create a visual depiction of the induced denaturation event—a "meltome."1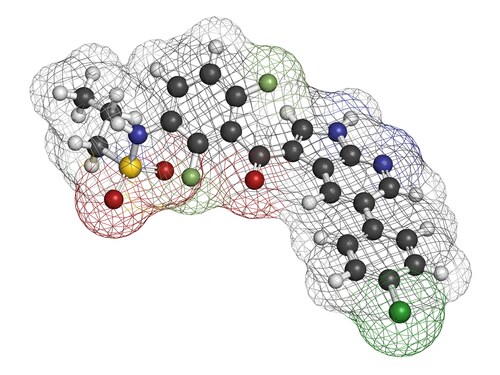 For both intact cells and cell extracts, the researchers observed a significant, although weak, anticorrelation between thermal stability and molecular weight. When they looked at the 3,204 proteins robustly quantified in both sample types, they saw differences in melting properties, with the cell extracts exhibiting greater stability (2.7°C higher on average). The team hypothesized that proteins bound to ligands in the cell might demonstrate increased thermal stability. True to this, they observed 440 adenosine 5′-triphosphate (ATP)-binding proteins that were more thermally stable than all other proteins. To confirm, the team added MgATP to K562 cell extract and detected 213 ATP-binding proteins that evidenced the predicted trend toward greater stability in the presence of ATP. This, plus observed lower melting points for DNA-binding proteins, supported the utility of thermal proteome profiling for analyzing protein-ligand interactions at scale.
Savitski et al. turned to kinase inhibitors (staurosporine and GSK3182571) to demonstrate that thermal proteome profiling can be applied to understand drug mechanisms via both target and off-target protein binding. They profiled a total of 175 protein kinases, including 51 with thermal shifts that met their criteria and 92 that overlapped with a previous experiment. Focusing on the overlapping proteins, they report 66 evidencing a staurosporine median inhibitory concentration below 10 μM.
The team also observed thermal shifts for non-target proteins. The presence of staurosporine increased thermal stability for two of the eight enzymes in the heme biosynthesis pathway (coproporphyrinogen III oxidase and ferrochelatase, FECH). For some protein complexes (like kinases containing cyclins), ligand-binding also influenced thermal stability for regulatory components. Looking at the protein kinase A complex, for instance, they report that staurosporine stabilized the catalytic subunit while destabilizing the regulatory subunit. Adding adenosine 3',5'-monophosphate showed the opposite trend, probably because it dissociated the subunits. The team reported no significant correlation between the magnitude of the thermal shift and affinity for staurosporine.
Next, the researchers turned to GSK3182571, a structurally divergent promiscuous kinase inhibitor, and 13 common targets to examine the relationship between thermal stabilization and ligand affinity. Both compounds evidenced similar thermal shifts; this suggests that the thermal shift for each protein depends on the ligand affinity. The team customized the isothermal dose-response (ITDR) protocol, which yields a profile at a defined temperature for a range of compound concentrations. Ultimately, they identified two heme pathway enzymes that interacted with staurosporine, leading the team to question whether drug interactions in this pathway could produce adverse effects. They looked at two drugs that cause photosensitivity (vemurafenib, a melanoma treatment, and alectinib, a second-generation small-cell lung cancer treatment) and one that does not (crizotinib, a first-generation small-cell cancer treatment). Using ITDR profiling, they found that alectinib affected FECH more potently than vemurafenib, and that crizotinib showed no effect, demonstrating FECH-mediated photosensitivity and thermal proteome profiling as a stand-alone tool.
Finally, Savitski et al. used K562 cells, which transform via BCR-ABL kinase, to identify affected proteins downstream from the target. They treated cultured cells with an ABL inhibitor (dasatinib, a treatment for chronic myelogenous leukemia) and profiled the samples. They report no thermal shift for target BCR-ABL, indicating that dasatinib binding does not stabilize this protein. However, downstream adapter protein CRKL and the phosphatase SHIP2 (also called INPPL1) showed significant thermal shifts, and downstream BCR-ABL-interacting protein CRK evidenced an affected melting curve slope in treated cells.
Overall, the team demonstrates that thermal proteome profiling with an eye toward different states (e.g., under drug treatment) can identify both direct interactors and downstream effectors that can serve as biomarkers for target engagement and drug efficacy. Continuing advancement of MS-based proteomics will positively affect the scope and application of thermal proteome profiling. Savitski et al. foresee the development of protocols for membrane proteins as well as tissues secured via animal study or clinical biopsy.
Reference
1. Savitski, M.M., et al. (2014) "Tracking cancer drugs in living cells by thermal profiling of the proteome," Science, 346 (6205), doi: dx.doi .org/10.1126/ science.1255784.
Post Author: Melissa J. Mayer. Melissa is a freelance writer who specializes in science journalism. She possesses passion for and experience in the fields of proteomics, cellular/molecular biology, microbiology, biochemistry, and immunology. Melissa is also bilingual (Spanish) and holds a teaching certificate with a biology endorsement.