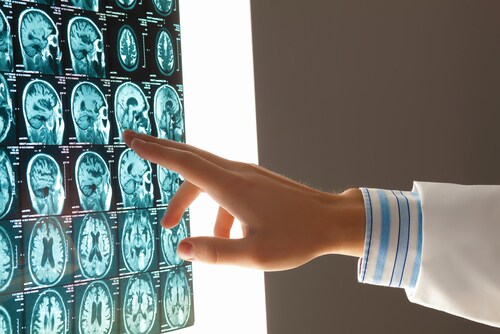 The effects of a mild traumatic brain injury (TBI), although neither lethal nor disruptive, often cause significant, long-term debility. Unfortunately, there are no proven diagnostic tests for determining the degree of disability expected or for directing ongoing treatment. As a potential route for biomarker discovery, Evans and colleagues (2014) hypothesized that even a mild TBI will cause changes in the central nervous system (CNS) proteome.1 Furthermore, these CNS-specific proteins (CSPs) might also correlate with typical impairments in motor skills frequently experienced following a mild TBI.
Using an in vivo closed-skull mouse model to mimic mild TBI in humans, the researchers investigated differential changes in the CNS proteome at Days 1, 7, 30 and 120 post-injury as compared with a control, sham-operated group. Their results indeed showed changes in the CNS proteome post-injury and that differential expression of certain proteins correlated with markers of physical impairment.
Evans et al. confirmed that their in vivo model accurately replicated mild TBI by using imaging (histopathology on brain tissue sections, magnetic resonance imaging) and biochemical tests (CNS isoprostane concentrations). Imaging showed neuron loss, edema and loss of cells, while increased isoprostane levels confirmed the primary oxidative response to injury.
Mice, both sham-operated and the TBI group, also completed various tests for neuromuscular and motor function at the experimental time points, undergoing rotarod and grip strength tests. Rotarod performances decreased following injury at Days 7 and 30, and grip strength was significantly weaker than the controls' on Day 7. The scientists also found that EMG parameters were altered post-TBI despite maintenance of muscle mass, and that these abnormalities persisted beyond the experimental period.
The researchers examined the CNS proteome from each time point using pooled protein digests labeled with tandem mass tagging (TMT) isobaric tags (Thermo Scientific). Briefly, the extracted proteins underwent magnetic bead-microwave preparation prior to in vitro trypsin digestion. The researchers then used TMT-6plex to label the peptides for proteomic analysis using an Orbitrap Elite hybrid ion trap-Orbitrap mass spectrometer (Thermo Scientific). Data were searched against the Trembl_mouse protein database; protein identification was confirmed using Western blotting.
Evans et al. identified approximately 476 ± 56 proteins (top-ranked) per sample from the mass spectrometry data. They found that a number of CSPs showed differential expression with TBI. Most of the statistically significant results came from two CSPs, myelin basic protein (MBP) and myelin associated glycoprotein (MAG), showing changes at Days 1, 7 and 30 post-TBI. Other CSPs—αII-spectrin (SPNA2), neurofilament light (NEFL) and MAG—correlated strongly with reduced grip strength at Day 30.
From these initial findings, the authors consider that larger cohort studies investigating CSPs as potential biomarkers for TBI prognosis and treatment are valid. Although these in vivo studies analyzed CNS tissue itself, Evans et al. comment that, with disruption in the blood–brain barrier commonly associated with TBI, CSP biomarkers could also appear. Data from their in vivo work is a first step in non-invasive TBI biomarker discovery.
Reference
1. Evans, T.M., et al. (2014, June) "Microwave and magnetic (M2) proteomics of a mouse model of mild traumatic brain injury," Translational Proteomics, 3 (pp. 10–21), doi: 10.1016/j.trprot.2014.03.002.
Post Author: Amanda Maxwell. Mixed media artist; blogger and social media communicator; clinical scientist and writer.
A digital space explorer, engaging readers by translating complex theories and subjects creatively into everyday language.