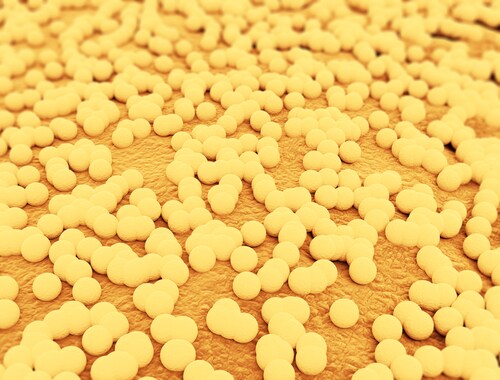 Methicillin-resistant Staphylococcus aureus (MRSA) is often called a superbug because of its ability to resist the most potent antibiotics available. As a new treatment strategy, researchers like Liu et al. are studying the effectiveness of antibiotic combinations that have synergistic effects, meaning using two drugs at the same time to treat the same infection.1 The researchers remark that these synergistic effects are highly sought after, since they require lower dosages, reducing cost and toxicity. Also, by using lower dosages, drug prescribers can decrease the chances of developing other drug-resistant strains.
Liu and colleagues investigated the synergistic effects of combinations of erythromycin, oxacillin and a new derivative of erythromycin called SIPI-8294, which is synthesized by the Shanghai Institute of Pharmaceutical Industry. They did this by surveying global protein changes in MRSA when it was exposed to various antibiotics.
The researchers began by investigating cultured S. aureus strains to determine the minimum inhibitory concentration (MIC), which is the lowest possible concentration that inhibits bacterial growth. They used this information to determine the fractional inhibitory concentration index (FIC), using the following equation: FIC = MIC(A in combination)/MIC(A alone) + MIC(B in combination)/MIC(B alone). FIC values less than or equal to 0.5 meant a particular drug combination had synergistic effects.
Next, they treated bacteria based on the following conditions: (1) SIPI-8294 and oxacillin (SIPI-8294/Oxa), (2) erythromycin and oxacillin (Ery/Oxa), (3) SIPI-8294 only, (4) oxacillin (Oxa) only, (5) erythromycin only and (6) no treatment. The researchers note that they treated MRSA with sub-MIC doses of antibiotics to impose stress, but not enough to induce cell death.
After lysing cells, extracting proteins and digesting with trypsin, the researchers analyzed proteins on an LTQ Velos ion trap mass spectrometer coupled to an Accela liquid chromatograph system (both from Thermo Scientific). In the SIPI-8294/Oxa treatment group, the researchers found 200 differentially expressed proteins, with 80 upregulated and 20 downregulated. For the Oxa and the SIPI-8294 alone treatment groups, they found 72 and 57 differentially expressed proteins, respectively. On the other hand, they saw 124 proteins (66 upregulated and 58 downregulated) differentially expressed in the Ery/Oxa treatment group, compared with 55 and 72 proteins in the Ery and the Oxa treatment groups, respectively. The researchers conclude that SIPI-8294/Oxa elicits an unexpected cellular response based on the way SIPI-8294 and Oxa act when cells were treated with these drugs independently.
Penicillin binding protein 2a (PB2a), which is mainly responsible for oxacillin resistance in MRSA, was four times lower in the SIPI-8294/Oxa group than in the Ery/Oxa group, suggesting that SIPI-8294 may interfere with this known oxacillin resistance mechanism. PB2a was also upregulated in all groups containing oxacillin. Also responsible for resistance, β-lactamase can inactivate or degrade the β-lactam antibiotics before the antibiotics reach their targets. It is important to note that oxacillin is not hydrolyzed by β-lactamase, and the main resistance mechanism depends on PB2a. Nevertheless, the team found β-lactam was upregulated 16.8 folds in the Ery/Oxa treatment group but only upregulated 4 folds in the SIPI-8294/Oxa treatment group.
Reverse transcription polymerase chain reaction (RT-PCR) on an Applied Biosystems 7500 Fast RT-PCR system (Thermo Scientific) helped add weight to this data. The researchers found the mRNA transcripts of PB2a (mecA) and β-lactamase (blaZ) were significantly lower than that in the Ery/Oxa group. While it is difficult to correlate changes in protein levels with the action of the antibiotic and effect the response of the bacteria to combat such action, this work brings some interesting insights into the possibilities of using synergistic drug combinations to treat infection.
Reference
1. Liu, X., et al. (2016) "Proteomic response of methicillin-resistant S. aureus to a synergistic antibacterial drug combination: A novel erythromycin derivative and oxacillin," Scientific Reports; 6: 19841. doi: 10.1038/srep19841.
Post Author: Emily Humphreys. Emily has previous research experience in eye development, infectious diseases, and aging. Emily has been a regular contributor to Accelerating Science since 2012.