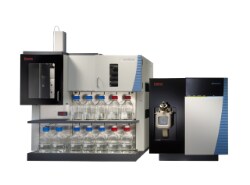 A recent study sought to attain high-throughout liquid chromatography–selected reaction monitoring (LC-SRM) analysis with greater sensitivity. Typically, charged analyte-solvent clusters created in an atmospheric pressure ion (API) source flow into a mass spectrometer through a tube with a small diameter. Increasing the tube diameter can improve sensitivity of the mass spectrometer but is limited by decreased radial heat transfer, which affects the pressure and desolvation characteristics of the analyte. Wouters et al. compared high chromatographic flow rate assays at 500 μL/minute using an UltiMate 3000 LC System to nano chromatographic flow rate assays at 300 nL/minute using EASY-Spra columns columns with an EASY-nLC 1000 liquid chromatograph. For the mass spectrometry analysis, they used an Orbitrap Fusion Tribrid mass spectrometer, Orbitrap Fusion Lumos Tribrid mass spectrometer and TSQ Quantiva Triple Quadrupole mass spectrometer (all instruments used were Thermo Scientific).1
The investigators evaluated the performance of the mass spectrometers using LC-SRM experiments of small drug molecules in crashed plasma at high chromatographic flow rates (Alprazolam). They then compared the ion signal and the chemical background levels for the configuration with and without a beam blocker installed.
The TSQ Quantiva mass spectrometer required a "wavy" Q0 quadrupole ion guide with neutral beam blocking post to block line of sight in order to compensate for the increased simultaneous introduction of neutral species and charge-laden solvent clusters introduced by larger mass spectrometer inlets.
The researchers were better able to reduce the noise level using the TSQ Quantiva instrument's ion optics compared to other systems reliant on an orthogonal ion injection dual electrodynamic ion funnel configuration (o-d EDIF). Additionally, they were able to see an Alprazolam ion signal increased by as much as ~1.5 times. At the nano chromatographic flow rate, the TSQ Quantiva mass spectrometer also achieved a signal improvement with decreased background noise.
The newly developed ion optics implemented in the TSQ Quantiva and Orbitrap Fusion Lumos mass spectrometers performed better in handling the mass spectrometry inlets with high gas throughput both in terms of sensitivity and robustness.
Reference
1. Wouters, E. R., Prasad, S., and Dunyach, J.J. (2015) "Advancements in atmospheric-vacuum interfaces of mass spectrometers with increased gas throughput and enhanced sensitivity" [Poster]. Thermo Scientific.