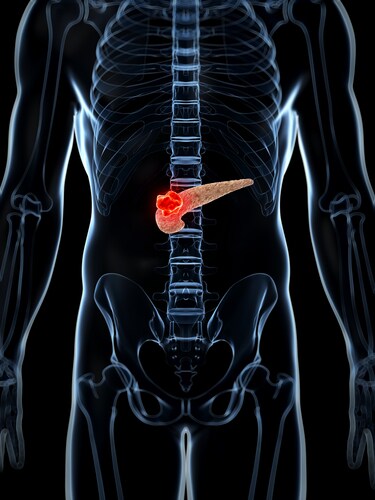 One of the key factors contributing to the poor prognosis for pancreatic cancer is that, at initial presentation, almost 50% of patients already have distant metastases to other body organs. As a further complication, research has now shown that spread can occur from different subclones initiated within the primary tumor. Although biomarker discovery is enhancing early diagnosis and disease management, the clonal diversity of pancreatic metastases means that neither researchers nor physicians can assume that all tumors in a single patient will behave the same way. Tumor heterogeneity affects characteristics like cell surface receptor presentation and abundance, thus altering response to chemotherapeutic drugs.
Kim et al. (2014) examined tumor heterogeneity in pancreatic metastases in one patient by characterizing the metastatic proteome of individual samples taken from a variety of anatomical sites.1 They complemented their proteomic data with in vitro and in vivo drug sensitivity testing, which confirmed differences in protein expression among the metastases.
The researchers obtained cells from the patient's metastases (peritoneum, lung and liver) via rapid autopsy. They kept these as low-passage cultures, growing the cells in SILAC (stable isotope labeling by amino acids in cell culture) media (light, medium or heavy) before lysing them to harvest cellular proteins. Kim et al. mixed equal quantities of proteins from each cell line and separated the mixture using sodium dodecyl sulfate–polyacrylamide gel electrophoresis (SDS-PAGE). Following in-gel digestion, they analyzed the peptides using an Orbitrap Elite hybrid ion trap-Orbitrap mass spectrometer (Thermo Scientific).
The results from the SILAC labeling showed differential expression for 25% of the total proteome among metastases. Lung and liver metastases showed similar changes in the proteome, with greater changes observed in cells from peritoneal tumors. Using Gene Ontology (GO) functional analysis, the researchers found that the proteins identified were involved in receptor activity and signal transducer activity, or were cell surface or extracellular proteins. In summary, the proteins altered the most by metastatic pancreatic tumor heterogeneity involved receptors and their signaling molecules.
In order to examine potential downstream receptor events affected by tumor heterogeneity, the team also looked at the phosphoproteome, using immunoaffinity purification to selectively enrich tyrosine-phosphorylated peptides. Using an LTQ Orbitrap XL ETD hybrid ion trap-Orbitrap mass spectrometer (Thermo Scientific), they found differential tyrosine kinase activity among the three metastatic sites, reflecting the previous proteome characterization.
Kim et al. further developed their hypothesis that differential proteome and phosphoproteome expression altered drug sensitivity among the three metastatic sites. Using small molecule inhibitors, they found differences in response in vitro to the various drugs among the cell lines, which reflected their proteomic characterization. Developing this work, the team focused on Axl receptor tyrosine kinase, an enzyme known to confer resistance to epidermal growth factor receptor (EGFR)-mediated chemotherapy, for in vivo testing. They injected nude mice with the metastatic tumor cell lines and then monitored response to R428, an Axl inhibitor. A significant reduction in tumor volume occurred only in mice carrying the liver and lung metastases but not in the peritoneal metastases, reflecting hyperphosphorylation (activation) of the kinase in the first two cell lines but not in the latter. Using immunohistochemistry, the researchers also demonstrated that Axl expression in tumor biopsies correlated strongly with increased metastasis.
The work presented by Kim et al. shows that the genetic evolution of tumors and their metastases can be investigated at the proteome level, thereby providing valuable information regarding cell surface signaling pathways and potentially leading to improved drug sensitivity profiles.
Reference
1. Kim, M.S., et al. (2014, June) "Heterogeneity of pancreatic cancer metastases in a single patient revealed by quantitative proteomics," Molecular and Cellular Proteomics, pii: mcp.M114.038547 [e-pub ahead of print].
Post Author: Amanda Maxwell. Mixed media artist; blogger and social media communicator; clinical scientist and writer.
A digital space explorer, engaging readers by translating complex theories and subjects creatively into everyday language.