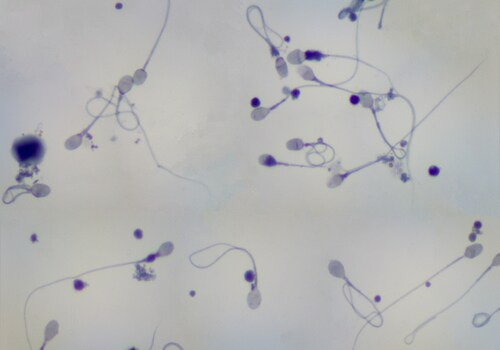 Male infertility has a variety of causes, 50% of which are unidentifiable. Animal models for sperm maturation are a poor approximation of the mechanisms behind human sperm maturation. This is because human epididymal anatomy is unique; humans have a different testis protein profile, and the human testis is only 25% efficient. Current research is looking for biomarkers in semen that explain male infertility. However, these do not explain idiopathic male infertility where the semen profile is normal. Cui et al. performed a proteomic study on immature and mature ejaculated sperm from fertile men to build a picture of the normal maturation process.
The investigators collected semen samples from 12 men who had fathered at least one healthy child, naturally, within two years. After collection, they allowed the samples to liquefy completely for 15–20 minutes at 37ºC before performing a manual semen analysis to determine sperm concentration, percent motility and the presence of round cells. They determined viability using an Eosin‑Nigrosin stain and prepared smears stained with a Diff‑Quick kit to examine sperm morphology.
Cui et al. then separated the sperm into four fractions (using a three-layer density gradient) by centrifugation before checking total sperm count, motility and morphology. To prepare for proteomic analysis, the investigators washed and centrifuged the sperm three more times in phosphate buffered saline and then solubilized them in lysis buffer containing a proteinase inhibitor cocktail. They pooled each fraction equally so that each sample was represented before storing the samples overnight at 4ºC to allow the sperm to completely solubilize. Thus, they used a combination of pooled and individual sperm samples for their analysis. The following day, they centrifuged the samples at 13,000 xg for 30 minutes and aspirated the supernatant. They then ran 25 μg aliquots on sodium dodecyl sulfate polyacrylamide gel electrophoresis (SDS‑PAGE) before staining them with GelCode Blue (Thermo Scientific). After overnight digestion, Cui et al. combined the peptide extracts and resuspended them in 1% acetic acid to make up a final volume of ~30 μl for liquid chromatography mass spectrometry (LC-MS) analysis.
For LC-MS, the investigators used an Orbitrap Elite hybrid ion trap-Orbitrap mass spectrometer (Thermo Scientific). They injected 5 μl of the sperm peptide extract at a flow rate of 0.25 μl/min and ran each sample three times. Using pooled and individual sperm sampled proved to be a valuable step. The investigators found 1,469 proteins in the pooled samples, compared to 1,856 and 1,650 proteins in two individual samples. 1,207 proteins were common to the pooled and individual samples. They identified further individual variation, with 525 proteins present in one individual sample not being present in the pooled samples. However, 84.4% (n=443) had spectral counts less than 0.8, indicating very low expression. They found a similar pattern in the second individual sample, with pooling having clearly excluded low-abundance proteins.
Across the four fractions, the total spectral count was 39,445, 39,239, 9,361 and 40,049 from fraction 1 to 4, respectively. The number of detected proteins decreased with the maturation of spermatozoa, a trend the researchers also saw in the individual samples. Proteins participating in proteolysis and cell cycle also decreased from fraction 1 to fraction 4. The authors suggest that this indicates that during the spermatozoal head condensation stage in fraction 1, protein ubiquitination was dramatic, and with the progressive maturation, protein ubiquitination decreased gradually, until almost complete in the most mature sperm.
Of the 1,469 detected proteins, 98 of them showed an increasing trend in expression levels. These were proteins involved in the reproductive cellular process, gamete generation, cell projection, cell motility and oxidative phosphorylation. The 48 proteins with decreasing trends in expression are involved in cellular assembly and organization, cellular function and maintenance, cellular movement, infectious disease, hair and skin development and function, molecular transport, and protein trafficking.
Cui et al. applied proteomics to a relevant human fertility model and identified proteins crucial to sperm maturation, motility and fertilization capacity. They suggest future studies should compare these profiles to semen from men diagnosed with infertility to help understand the underlying pathology.
Reference
Cui, Z., Sharma, R., and Agarwal, A. (2015) "Proteomic analysis of mature and immature ejaculated spermatozoa from fertile men," Asian Journal of Andrology, 18 (pp. 1–12).
Post Author: Miriam Pollak. Miriam specialised in neuroscience as an undergraduate but traded in lab work for a post graduate degree in science communication.
She has since had a career that has spanned science communication, science education and communications management.
However, Miriam has found her bliss balancing her love of writing and disseminating medical research with managing a multimillion dollar research budget for a childhood cancer charity in Australia.
Oh, and because she's a sucker for punishment… she's just started a Masters in Human Nutrition…