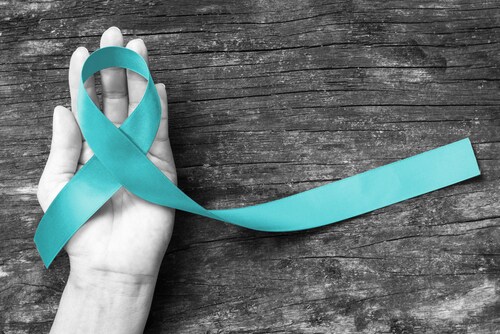 Despite advances in the treatment of other types of cancer, late-stage ovarian cancer still has a poor prognosis. Ovarian cancer poses a unique challenge because even after surgery and chemotherapy treatment, residual chemoresistant cells metastasize to other areas of the body, resulting in only a 30% five-year survival rate.
Aware of the urgency to improve the outlook for ovarian cancer, Ahmed et al. developed a novel separation technique to isolate tumor cells from the ascites of advanced-stage chemo-naive and recurrent ovarian cancer.1 The team then used label-free quantitative proteomics to identify and monitor protein expression changes associated with chemoresistance and recurrence.
The team of researchers collected ascites from patients at the time of surgery prior to chemotherapy treatment (CN) and at recurrence (CR). The study included CN (n = 4) and CR (n = 4) unmatched patient-derived samples. After culturing tumor cells and allowing them to grow for two to three days at 37°C, they used flow cytometry to assess purity and then stored the samples at −80°C until they were ready to analyze them.
For the proteomic analysis, the researchers prepared cell lysates and used 1-D sodium dodecyl sulfate polyacrylamide gel electrophoresis (SDS-PAGE) SYPRO (Thermo Scientific) to estimate the protein content. They separated the proteins by SDS-PAGE and used Imperial Protein Stain (Thermo Scientific) to visualize the proteins. Next, they excised gel bands, alkylated the bands and digested the proteins with trypsin.
For the proteomic analysis, the ultimate goal was to identify a unique proteome signature distinct to the ascites-derived tumor cells of CR patients. For this analysis, they used an UltiMate 3000 RSLCnano System ultra-performance liquid chromatography instrument coupled online to an Orbitrap Elite mass spectrometer with a nanoelectrospray ion source (all Thermo Scientific). They used Xcalibur software, revision 2.1, (Thermo Scientific) to process the data.
The researchers saw a high degree of similarity between ascites derived from CN and CR tumor cell populations, with an average of 2,807 and 2,775 proteins, respectively. Next, they examined changes in protein expression level. The team looked for proteins differentially expressed at p < 0.05, and that exhibited a fold change of greater than two.
These criteria revealed 353 differentially enriched proteins in CN and CR samples. Of these, they found 175 proteins were enriched in CR compared to CN samples and 178 were diminished in CR compared to CN ascites-derived tumor cells. When the authors looked at protein expression in CR samples compared to CN, they found the combined amount of differentially expressed proteins found in four, three, two and one sample varied, as seen in the following table.
| | | |
| --- | --- | --- |
| | Upregulated proteins in CR samples | Downregulated proteins in CR samples |
| Four samples | 40% | 12% |
| Three samples | 32% | 18% |
| Two samples | 20% | 12% |
| One sample | 8% | 25% |
The remaining 37% of proteins were unique to CN samples and were not expressed in CR samples. There were also approximately 20% and 15% of the proteins unique to CN and CR samples, respectively.
One major finding was a distinct difference in the expression of host immune-associated MHC class antigens, which has not previously been reported with the MHC class I antigen (HLA-C) expressed in the CN population, suggesting distinct mechanisms involved in tumor antigen processing occurring before and after cancer treatment. While the sample size was small, this experiment repeated on a larger scale could give even more insight into the mechanisms of recurrent ovarian cancer.
Reference
1. Ahmed, N., et al. (2016) "Unique proteome signature of post-chemotherapy ovarian cancer ascites-derived tumor cells," Science Reports, 6(30061), doi: 10.1038/srep30061.