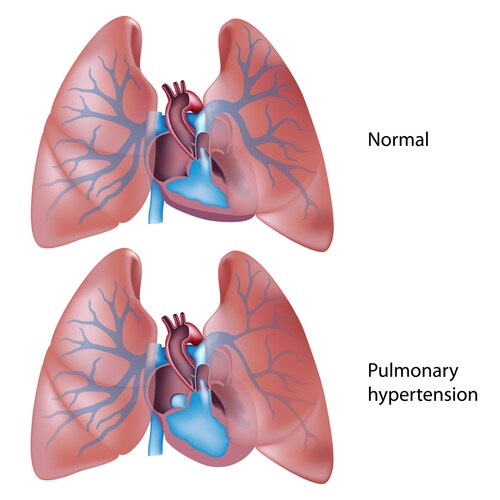 Idiopathic pulmonary arterial hypertension (IPAH) is an often fatal disease that primarily affects young women. It is characterized by changes in the vascular endothelial cells lining the pulmonary arteries. Pathogenesis is poorly understood, and lung transplantation may be indicated for survival.
Talati et al. sought to understand the disease by examining vascular endothelial changes at the protein level using matrix-assisted laser desorption/ionization mass spectrometric (MALDI-MS) analysis.1 Their results showed reduced nuclear histone H1 expression associated with nucleosomal changes in cultured pulmonary artery smooth muscle cells (PASMC) as well as in lung tissue biopsied from patients.
The researchers obtained samples of diseased and control lung tissue at the time of transplantation surgery, along with controls from unused donor tissue. They prepared frozen blocks from this tissue, as well as establishing PASMC cultures.
The team prepared serial sections from the frozen tissue blocks, staining one slide from each block with hematoxylin and eosin (H&E) to highlight pulmonary arteries, and scanning them to digitize visual information. They mounted other sections in the series on MALDI target plates, which had been prepared for MALDI histological analysis by precipitation of the proteins. The researchers merged scan information from the H&E stained slides with the MALDI target slide preparations and then analyzed the tissue by robotic spotting to obtain tissue profile spectra.
Using the MALDI-MS and histological data, the researchers grouped the spectra into collections based on arterial diameter. They found that there was indeed differential protein expression when IPAH and control tissues were compared. Liquid chromatography–mass spectrometric (LC-MS) analysis of arterial wall tissue using an LTQ Orbitrap hybrid ion trap-Orbitrap mass spectrometer (Thermo Scientific) in conjunction with MALDI data identified proteins that included histone H1, which was also present as two fragments. H1 fragments showed increased abundance in IPAH arteries, as compared with controls.
Talati and co-workers investigated H1 expression using paraffin-embedded lung tissue sections from control and IPAH patients. Using immunofluorescence, the scientists saw that, compared to control tissue, H1 levels were reduced in pulmonary artery endothelial cell as well as in PASMC nucleoli, but H1 showed increased abundance in the cytoplasm. They confirmed this finding in the frozen sections, demonstrating that the result wasn't an artifact of tissue preparation.
As a further confirmation, the researchers repeated the immunolocalization using cultured PASMCs. They found nuclear H1 was also reduced in cells harvested from IPAH patients but elevated in the cell cytoplasm. As a final step, the researchers used fractional lysates from the cultured cells to demonstrate cytoplasmic H1 enrichment in IPAH PASMCs. They found that H1 abundance was reduced by 50% in the nuclear fractions from the IPAH cells.
Talati and co-authors wondered if changes in levels of transporter proteins—importin β or importin 7, which are associated with H1 nuclear translocation from the cytoplasm—altered histone abundance and localization in the IPAH samples. Using the two cell cultures, the researchers precipitated H1 from nuclear and cytoplasmic fractions, then examined transport protein association by immunoblotting with anti-importin antibodies. They found that cytoplasmic association with importin β was reduced in IPAH cells.
While examining the cell culture preparations histologically, Talati et al. noted that IPAH nucleolar chromatin density appeared less than that found in the controls. Wondering if this was a product of the altered H1 expression, the researchers used micrococcal nuclease digestion of bulk chromatin to examine nuclear repeat length (NRL). They found that NRL was approximately 20 bp longer in IPAH cells as compared to the controls. Because histone protein function is important for other cell processes, including transcription, the authors suggest that their finding of altered H1 expression and fragmentation warrant further investigation in the pathogenesis of IPAH.
Reference
1. Talati, M., et al. (2012) "Altered expression of nuclear and cytoplasmic histone H1 in pulmonary artery and pulmonary artery smooth muscle cells inpatients with IPAH," Pulmonary Circulation, 2 (pp. 340–51).
Post Author: Amanda Maxwell. Mixed media artist; blogger and social media communicator; clinical scientist and writer.
A digital space explorer, engaging readers by translating complex theories and subjects creatively into everyday language.