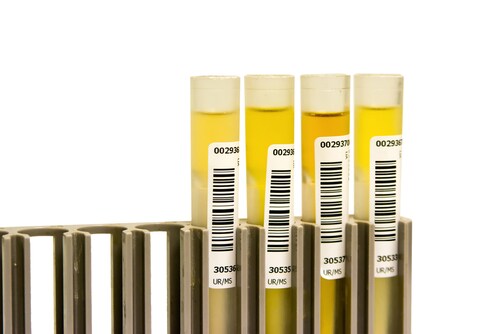 Buprenorphine targets the opioid receptors to elicit pain relief (low doses of 1 mg/day) and treat opioid addiction (higher doses of 2–32 mg/day). Clinicians rely on urinalysis to monitor patient adherence and to detect abuse. Post-metabolism, free buprenorphine concentrations in human urine can be less than 1 ug/L after therapeutic administration. The recommended urine cutoff for total buprenorphine (including metabolites) is 5 μg/L.
The available immunoassays offer varying degrees of selectivity and sensitivity because they use different target immunogens to raise the antibodies, resulting in differences in cross-reactivity. The cloned enzyme donor immunoassay (CEDIA, Thermo Scientific) cross-reacts with buprenorphine (100%) and buprenorphine glucuronide (98%) but not with norbuprenorphine or norbuprenorphine glucuronide. It also shows cross-reactivity with tramadol, opioids (codeine, dihydrocodeine and morphine) and atypical antipsychotics (amisulpride and sulpiride).The homogeneous enzyme immunoassay (HEIA) cross-reacts with buprenorphine (100%) and norbuprenorphine (107%) but only very slightly with the respective glucuronides (0.1%).
Chromatographic techniques (gas or liquid chromatography coupled with mass spectrometry) offer one way to detect both the parent drug and metabolites with enhanced selectivity and sensitivity. Belsey et al. (2014) developed a liquid chromatography–high-resolution mass spectrometry (LC-HRMS) assay for the detection of buprenorphine and its urinary metabolites.1 They used an Aria Transcend TLX-II system with a Q Exactive hybrid quadrupole-Orbitrap mass spectrometer (both Thermo Scientific), relying upon TraceFinder software (version 3.0, Thermo Scientific) for instrument control.
This LC-HRMS assay offers minimal sample preparation and the sensitivity to detect the analytes at levels commensurate with low-dose therapy or several hours' time lapse after suspected abuse. The limits of detection were 1.3 µg/L for buprenorphine, norbuprenorphine and buprenorphine glucuronide, and 2.5 µg/L for norbuprenorphine glucuronide.
Using 120 urine samples, the team compared the results from the LC-HRMS assay with those obtained from both CEDIA and HEIA. When compared with the MS-based assay, CEDIA offered 99% and 84% sensitivity and selectivity, respectively, while HEIA offered 97% and 100%, respectively. Overall, CEDIA was less sensitive as a result of seven false-positives triggered by opiate cross-reactivity. HEIA gave two false-negatives when only norbuprenorphine glucuronide was present, indicating that the buprenorphine intake was not recent. The most prevalent analyte, norbuprenorphine glucuronide, does not cross-react significantly for either immunoassay, resulting in a detection of approximately 15% of the total buprenorphine species in the urine samples with these techniques.
Of note, the LC-HRMS assay revealed buprenorphine adulteration in three samples, as evidenced by high concentrations of buprenorphine without buprenorphine glucuronide species. Because both immunoassays lack the ability to distinguish between the parent drug and the metabolites, neither CEDIA nor HEIA could indicate adulteration. LC-HRMS also highlighted one sample with high concentrations of norbuprenorphine and norbuprenorphine glucuronide, as compared to buprenorphine and buprenorphine glucuronide, indicating either the co-administration of drugs or a physiological change such as pregnancy.
Overall, Belsey et al. present their method as simple and sensitive for the detection of buprenorphine and its metabolites. They indicate that its ability to detect the glucuronide species when buprenorphine and norbuprenorphine remain undetectable allows researchers to identify adulteration and extends the post-administration timeframe for detection, which is useful in the case of suspected abuse. One particular benefit of this technique is that its full-scan nature allows researchers to retroactively interrogate the collected data for analytes that were not considered in the original assay.

Reference
1. Belsey, S.L., et al. (2014, September) "Buprenorphine Detection in Urine Using Liquid Chromatography–High-Resolution Mass Spectrometry: Comparison with Cloned Enzyme Donor Immunoassay (ThermoFisher) and Homogeneous Enzyme Immunoassay (Immunalysis)," Journal of Analytical Toxicology, 38 (pp. 438–43), doi: 10.1093/jat/bku060.
Post Author: Melissa J. Mayer. Melissa is a freelance writer who specializes in science journalism. She possesses passion for and experience in the fields of proteomics, cellular/molecular biology, microbiology, biochemistry, and immunology. Melissa is also bilingual (Spanish) and holds a teaching certificate with a biology endorsement.