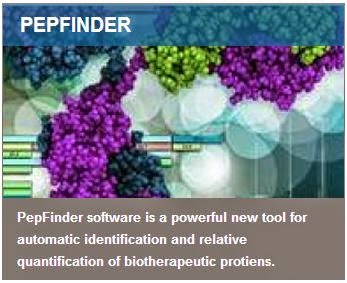 Although biotherapeutic analysis relies on instrumentation similar to that used for proteomic analysis, a wide gap has existed with respect to the functionality of the software tools available for characterization. In the case of biotherapeutics, researchers analyze a single molecule, such as an antibody, that may have several modifications. In proteomic analysis, however, a cell is typically lysed and its contents, which contain many proteins, are sifted through to either quantify or identify the proteins present. The new PepFinder software (Thermo Scientific) now allows researchers to efficiently interrogate their biotherapeutics' mass spectrometry (MS) data, in a purpose-built fashion.
Speaking at a webinar sponsored by Thermo Fisher Scientific, presenter Amy Hilderbrand helps participants to understand the process by describing the methodology used to analyze therapeutic antibodies. She explains that analysis of biotherapeutics relies on the same MS instrumentation used in proteomics because, in short, the antibodies lend themselves well to analysis by high-resolution MS instrumentation such as the Q Exactive hybrid quadrupole-Orbitrap mass spectrometer (Thermo Scientific). Starting with a top-10 MS/MS analysis with no dynamic exclusion, Hilderbrand characterizes the antibodies. She subsequently uses accurate mass data for both the parent and higher-energy collisional dissociation (HCD) fragment ions. Setting MS1 resolution to 35,000 and MS2 resolution to 17,500, she can then look at the isotopic pattern of +2 to +5 ion types. Hilderbrand uses MS1 data to extract ion chromatograms and calculate areas of modified and native peptides. She then determines the relative modification percentage and compares the ratios of control and stressed samples to get information about a relative number for a modification on a particular antibody. Some of the stress-induced changes she may look for in a given sample include deamidation, methionine oxidation and tryptophan oxidation. Deamidation, in particular, involves a very small mass difference; therefore, it is important to use high-resolution MS to see the modifications.
So what advantages does PepFinder software offer the researcher above and beyond proteomic software? Hilderbrand explains that the PepFinder software uses MS1 and MS2 data to characterize a particular protein or biotherapeutic, and it can search without MS2 data—one of the challenges of using other proteomic software. PepFinder is also able to identify chromatographic features in the dataset and to collect data as a particular feature with a retention time, area and a map. Therefore, identifications are based on the proteins of interest. PepFinder will search for both expected and unexpected modifications and can look for single-base and all-base substitutions for sequence variant analysis. It can also compare multiple peptide map datasets.
Hilderbrand has used PepFinder software for molecular assessment, stress panel analysis, sequence variant analysis, disulphide mapping, antibody drug conjugate, and differential labeling experiments. When comparing manual integration, which takes a very long time, with PepFinder software integration, both methods are on par, with similar trends and patterns. Limitations to the software exist, such as specific information as to where modification sites are located on a given molecule; however, using PepFinder software provides a quick characterization of the peptide map to determine if changes have occurred.
Reference
1. Hilderbrand, A. (presenter). (2014) "Using PepFinder Software for Interrogation of LC-MS Peptide Map Data of Biotherapeutics," September 17.
Post Author: Miriam Pollak. Miriam specialised in neuroscience as an undergraduate but traded in lab work for a post graduate degree in science communication.
She has since had a career that has spanned science communication, science education and communications management.
However, Miriam has found her bliss balancing her love of writing and disseminating medical research with managing a multimillion dollar research budget for a childhood cancer charity in Australia.