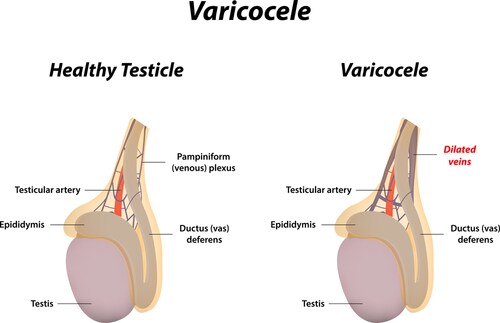 The search for novel biomarkers for male infertility associated with unilateral or bilateral varicocele received a nudge forward with the recent identification of differentially expressed proteins between the two groups, including seven candidate proteins of interest. Varicoceles are enlarged veins in the scrotum, similar to varicose veins; they are present in 35% to 50% of men with primary infertility and 80% of men with secondary infertility. Although several known factors influence the pathogenicity of varicoceles, the precise mechanisms linking them to infertility remain unclear.
Proteome-level analysis has already been applied to screen for differential expression of sperm proteins associated with varicoceles but has not yet been recruited to assess differences in sperm protein expression between patients with unilateral versus bilateral presentation. Recently, Agarwal et al. set out to do just that.1 They obtained semen samples from 50 patients with both infertility and clinical varicocele (33 unilateral, 17 bilateral). Of these, 8 samples (5 unilateral, 3 bilateral) were suitable for pooling.
The research team used a bicinchoninic acid protein assay kit (Thermo Scientific) to determine protein concentration. They employed sodium dodecyl sulfate–polyacrylamide gel electrophoresis (SDS-PAGE) and label-free liquid chromatography–mass spectrometry (LC-MS) on an Orbitrap Elite hybrid ion trap-Orbitrap mass spectrometer (Thermo Scientific) for protein identification and quantification. To extract the tandem mass spectra, the researchers used Proteome Discoverer software (version 1.4.1.288, Thermo Scientific) and relied upon Mascot, SEQUEST and X! Tandem software for data analysis.
Global protein profiling in triplicate revealed 795, 713 and 763 identified proteins in the unilateral samples and 1,024, 999 and 1,017 identified proteins in the bilateral samples. Using normalized spectral counts, the team reported several abundant proteins common to both groups, as seen in Table 1.
Table 1: Most abundant proteins in unilateral and bilateral samples
lactotransferrin isoform 1 precursor (LTF)
fibronectin isoform 3 preprotein
semenogelin-2 precursor (SEMG2)
A-kinase anchor protein 4 isoform 2 (AKAP4)
semenogelin-1 preprotein (SEMG1)
The researchers detected 253 total differentially expressed proteins, including 31 unique to the unilateral samples and 64 unique to the bilateral samples. Of the remaining 158 differentially expressed overlapping proteins, 113 were over-expressed and 45 were under-expressed in the unilateral group as compared to the bilateral group.
Using Reactome software, the team classified 151 of these proteins (approximately 60% of the 253 total differentially expressed proteins) and found the following six key biological pathways: metabolism, disease, immune system, signal transduction, gene expression, and apoptosis. Interrogation of the Database for Annotation, Visualization and Integrated Discovery (DAVID) and Ingenuity pathway analysis (IPA) revealed 32 differentially expressed proteins associated with post-translational modification and protein folding, which the researchers described as severely compromised. Of these, 17 were upregulated and 15 were downregulated in the unilateral (versus bilateral) sample. The team also reported 35 differentially expressed proteins linked with cell death and survival, free radical scavenging, and small molecule biochemistry. One of these was upregulated and 32 were downregulated in the unilateral sample as compared to the bilateral sample.
Agarwal et al. then turned to proteins specifically associated with functional categories linked to male reproduction, including spermatogenesis, spermatid development/differentiation, gamete generation, sperm binding to zona pellucida, sperm–egg recognition, reproduction cellular processes, and sexual reproduction. They identified 21 differentially expressed proteins implicated in these processes, whittling this list to seven candidate proteins, which are shown in Table 2.
Table 2. Candidate proteins of interest
Protein

Gene

Expression, unilateral

(versus bilateral)

Glutathione S-transferase Mu 3

GSTM3

over-expressed

Sperm protein associated with the nucleus on the X-chromosome B/F

SPANXB1

over-expressed

Protein DJ-1

PARK7

over-expressed

Proteasome subunit alphatype-7-like

PSMA8

over-expressed

Dihydrolipoyl dehydrogenase, mitochondrial

DLD

over-expressed

Semenogelin-1

SEMG1

under-expressed

Semenogelin-2

SEMG2

under-expressed
These candidate proteins could ultimately emerge as clinical biomarkers for male infertility associated with unilateral varicocele and assist urologists in treatment planning. The findings in this study also augment the current understanding of varicocele pathogenesis and may shed light on the detrimental outcomes associated with bilateral presentation. Agarwal et al. call for validation of the major functional proteins identified in this study and suggest the utility of future research to determine protein expression changes after unilateral or bilateral varicocelectomy.

Reference
1. Agarwal, A., et al. (2015) "Differential proteomic profiling of spermatozoal proteins of infertile men with unilateral or bilateral varicocele," Urology, 85 (pp. 580–8), doi: 10.1016/j.urology.2014.11.030.
Post Author: Melissa J. Mayer. Melissa is a freelance writer who specializes in science journalism. She possesses passion for and experience in the fields of proteomics, cellular/molecular biology, microbiology, biochemistry, and immunology. Melissa is also bilingual (Spanish) and holds a teaching certificate with a biology endorsement.