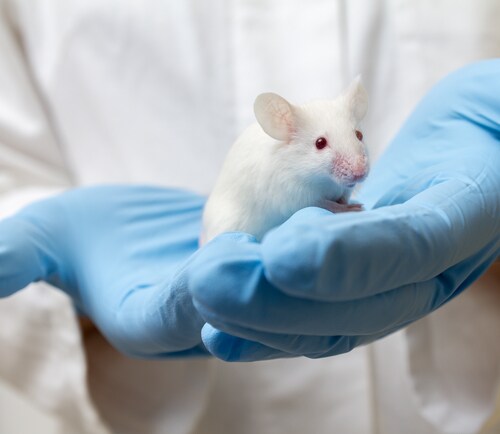 Okutan, Hansen and Janfelt present a new method for whole-body imaging of drugs and metabolites in mice using desorption electrospray ionization mass spectrometry imaging (DESI-MSI) on cryosectioned samples.
For their experiments, the researchers treated mice using intraperitoneal injections with the antidepressant drug amitriptyline at 2.7 mg/kg body weight, which is comparable to the normal prescribed human dose. They then euthanized the mice at different time points and carefully positioned them so the team could obtain sagittal 30 mm thick whole-body sections at −20°C using a cryomicrotome. The researchers note that their method of sectioning is more feasible than other cryosectioning approaches because the cryomicrotome is commonly found in histology laboratories, whereas other cryosectioning devices tend to be more costly and cumbersome.
The team captured sections using 76 mm section-collecting tape. After storing the sections at −80°C, the team placed samples into a desiccator and then mounted them onto a 75 mm × 52 mm plate fashioned from two glass microscopy slides stuck together with a piece of clear adhesive tape. They directly analyzed them using DESI-MSI on an LTQ XL Linear Ion Trap mass spectrometer (Thermo Scientific) equipped with a custom DESI imaging ion source based on a motorized microscope stage controlled by software written in-house. They also performed a similar DESI imaging experiment using a Q Exactive Hybrid Quadrupole-Orbitrap mass spectrometer (Thermo Scientific).
The team was able to identify a number of endogenous compounds (lipids) simultaneously with the drug and one of its metabolites. The authors explain that the simultaneous imaging of endogenous and exogenous compounds facilitates registration of the drug images to certain organs in the body by colored overlay of the two types of images.
The researchers dosed the mice with 500 g of amitriptyline (corresponding to 25 mg/kg body weight), sacrificed them after 15 minutes and performed DESI. These results, along with high-sensitivity tandem mass spectrometry (MS/MS) images, revealed a number of phospholipids at specific locations in the organism, including the lung, intestine and brain. The researchers note that they detected amitriptyline (m/z 278.2) as well as its metabolite nortriptyline (m/z 264.2) in full-scan mode, but the MS/MS images of the two compounds provided much better sensitivity and complete elimination of the background noise. The researchers saw amitriptyline primarily throughout the abdominal cavity and where it had been administered 15 minutes earlier.
Similarly, when the team dosed mice intraperitoneally with 50 g of amitriptyline (comparable to a human dose) and sacrificed them after two hours, they saw amitriptyline in the stomach region and in the adipose tissue near the skin. Nortriptyline was found in the lower part of the stomach and in the intestine, but not in the liver or the kidneys, as in the previous experiment.
While proving their method to be sufficient to visualize drug metabolism, the researchers also remark that the mass spectrometers used in these experiments are highly comparable in terms of sensitivity to more expensive MSI systems, but at a fraction of the price.
Reference
1. Okutan, S., Hansen, H.S., and Janfelt, C. (2016) "Cryo-sectioning of mice for whole-body imaging of drugs and metabolites with desorption electrospray ionization mass spectrometry imaging—a simplified approach," Proteomics,16(11–12) (pp. 1633–1641), doi: 10.1002/pmic.201500422.

Post Author: Emily Humphreys. Emily has previous research experience in eye development, infectious diseases, and aging. Emily has been a regular contributor to Accelerating Science since 2012.