Luminaris qPCR Master Mixes
Thermo Scientific™ Luminaris™ products are an advanced line of high performance qPCR master mixes with a built-in multilevel control system for more accurate, sensitive, and specific real-time PCR results.
High specificity—no non-specific amplification

Excellent sensitivity–down to single copy detection

Wide linear range—accurate quantification across 9 orders of magnitude

UDG in the master mix to prevent carry-over contamination

Colored formats—blue master mix and yellow sample buffer for easy pipetting

Versions with premixed ROX or fluorescein for different real-time platforms
Luminaris products

Luminaris Color and Luminaris (colorless) qPCR Master Mixes are provided for probe or SYBR Green detection chemistries. Individual formulations with ROX or fluorescein as passive reference dyes are compatible with most qPCR platforms.
Luminaris HiGreen qPCR master mixes
Four levels of control for superior real-time PCR results
The Luminaris Color qPCR Master Mixes are specially formulated to produce consistent and reproducible qPCR data by using four levels of control over variation in your real-time PCR:
Level 1: Control over pipetting errors by providing colored reagents
Luminaris Color qPCR Master Mixes incorporate an inert blue dye which significantly enhances the contrast between the reagent and plastic and does not affect the qPCR reaction. The Yellow Sample Buffer complements the color system by making the overall dispensing of qPCR reaction components quick and easy. This is particularly important when using opaque white reaction plates and tubes, generally recognized as giving superior qPCR results.
| | | |
| --- | --- | --- |
| | | Figure 1. Colored solutions for easy reaction setup in white plates. Blue Luminaris Color qPCR Master Mix combined with the Yellow Sample Buffer turns the solution green and make dispensing of reaction components easy. Luminaris Master Mixes are also available in colorless formulations. The performances of Luminaris (colorless) and Luminaris Color Master Mixes are equal. |
Level 2: Control over carry-over contaminations by providing UDG in the master mix
Even minute amounts of contaminating DNA can lead to false positive results in qPCR. The UDG enzyme included in Luminaris qPCR Master Mix degrades possible carry-over amplicons from previous qPCR reactions and allows amplification of specific products only.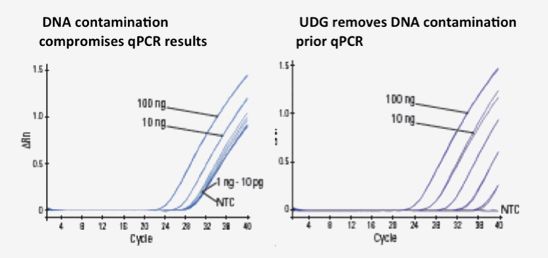 Figure 2. UDG removes carry-over contaminations in qPCR for more accurate results. A gene was amplified from human gDNA (100 ng – 10 pg) spiked with dU-containing PCR product (3000 copies/sample). DNA was amplified with or without UDG treatment step on ABI StepOnePlus™ Real-time PCR instrument using Luminaris Color Probe High ROX qPCR Master Mix. NTC: no-template control.

Level 3: Control over non-specific amplifications by using Hot Start Taq polymerase of ultra low residual activity
Luminaris Color qPCR Master Mixes are created to provide the highly specific qPCR results. The chemically modified Hot Start Taq DNA polymerase included in the master mix has ultra low residual activity until thermally activated. This eliminates non-specific amplification and primer dimers formation during reaction setup. Reactions with Luminaris qPCR Master Mixes can be stored for up to three days after reaction setup without impacting specificity or sensitivity.
Figure 3. Exceptionally low residual activity of Hot Start Taq DNA polymerase enables unmatched stability of fully assembled qPCR reactions. Amplification of a gene from human genomic DNA (100 ng – 10 pg) with Luminaris Color HiGreen qPCR Master Mix and a master mix from other supplier. Reactions were setup and run either immediately or after 72 h on the Thermo Scientific™ PikoReal™ 96 Real-Time PCR System. Amplification curves and melting curve analysis indicate high specificity and sensitivity of reactions with Luminaris master mix. NTC - no-template control.
Level 4: Control over false negatives with qPCR sensitivity down to single copy detection

The high sensitivity of Luminaris qPCR Master Mixes allows accurate quantification of low-copy targets.

Figure 4. Detection of single copy target with Luminaris Color qPCR Master Mixes. A human gene was amplified in 384 replicate reactions containing an average of one copy of target DNA molecules (3.33pg of human genomic DNA) per reaction using Luminaris Color HiGreen High ROX Master Mixes on ABI Viia7™ Real-Time PCR instrument. Amplification plot (left) and normal distribution curve of Cq values (right) are shown. The obtained detection rates of at least one target copy per reaction (p=0.59 and p=0.65) are in accordance with the statistical Poisson probability distribution rate for rear events, which equals 0.631.

1. Lockey, C., et al., Real-Time Fluorescence Detection of a Single DNA Molecule, BioTechniques, 24, 744-746, 1998.
Luminaris instrument product compatibility charts
HiGreen High ROX qPCR Master Mix
HiGreen Low ROX qPCR Master Mix
HiGreen Fluorescein qPCR Master Mix
HiGreen qPCR Master Mix
Colorless
K0961, K0962, K0953, K0964
K0971, K0972, K0973, K0974
K0981, K0982, K0983, K0984
K0991, K0992, K0993, K0994
With blue dye
K0361, K0362, K0363, K0364
K0371, K0372, K0373, K0374
K0381, K0382, K0383, K0384
K0391, K0392, K0393, K0394
Thermo Scientific
PikoReal 24 Real-Time PCR System, PikoReal 96 Real-Time PCR System

✓

Life Technologies
7000, 7300, 7700, 7900, 7900HT, StepOne Plus™, StepOne™

✓

7500, 7500 Fast, ViiA™ 7, QuantStudio™ 12K

✓

Bio-Rad
CFX96™, CFX384™, MiniOpticon™, Opticon, Opticon 2, Chromo4™

✓

MyiQ™, iQ5™, iCycler iQ

✓

✓

Stratagene
Mx4000, Mx3005P, Mx3000P

✓

Roche Diagnostics
LightCycler480, LightCycler 1.5, LightCycler 2.0

✓

QIAGEN
Rotor-Gene™ 3000, Rotor-Gene™ 6000, Rotor-Gene Q

✓

Eppendorf
MasterCycler ep realplex

✓

Cepheid
SmartCycler SmartCycler II

✓

Techne
PrimeQ

✓

Illumina
Eco Real-Time PCR System

✓
Probe High ROX qPCR Master Mix
Probe Low ROX qPCR Master Mix
Probe qPCR Master Mix
With blue dye
K0331, K0332, K0333, K0334
K0341, K0342, K0343, K0344
K0351, K0352, K0353, K0354
Colorless
K0931, K0932, K0933, K0934
K0941, K0942, K0943, K0944
K0951, K0952, K0953, K0954
Thermo Scientific
PikoReal 24 Real-Time PCR System, PikoReal 96 Real-Time PCR System

✓

Life Technologies
7000, 7300, 7700, 7900, 7900HT, StepOne Plus™, StepOne™

✓

7500, 7500 Fast, ViiA™ 7, QuantStudio™ 12K

✓

Bio-Rad
CFX96™, CFX384™, MiniOpticon™, Opticon, Opticon 2, Chromo4™

✓

MyiQ™, iQ5™, iCycler iQ

✓

Stratagene
Mx4000, Mx3005P, Mx3000P

✓

Roche Diagnostics
LightCycler480, LightCycler 1.5, LightCycler 2.0

✓

QIAGEN
Rotor-Gene™ 3000, Rotor-Gene™ 6000, Rotor-Gene Q

✓

Eppendorf
MasterCycler ep realplex

✓

Cepheid
SmartCycler SmartCycler II

✓

Techne
PrimeQ

✓

Illumina
Eco Real-Time PCR System

✓