COVID-19 testing solutions
that minimize impact to employees and productivity

A simple way to meet OSHA guidelines
Easy-to-implement and customized solutions for small to large businesses
Test at least once per week to help protect workers


Implement testing with minimal internal requirements and resources


Choose the at-home or on-site testing program that meets your business needs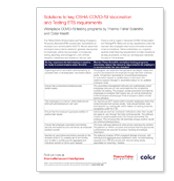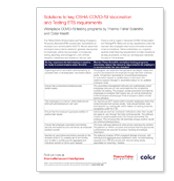 The OSHA COVID-19 Vaccination and Testing Emergency Temporary Standard (ETS) imposes new requirements on employers who are included in the ETS. We are aware that employers have a narrow window to generate new records for employees, define new processes to incorporate testing, reporting, and management, with minimal disruption to business and operations. We can help.

The Thermo Fisher Scientific™ ReadyCheckGo™ testing program offers solutions to key OSHA ETS requirements
Convenient, effective, and customizable
Easy-to-implement testing solutions to help organizations get back to business
The Thermo Fisher Scientific™ ReadyCheckGo™ testing program complements the dynamics of any business, so whether your employees work in an office, a warehouse, a manufacturing plant, or any location where people need to work together, they can focus on doing their best work.
Our flexible solutions can even be implemented with field based employees to instill confidence with customers that they may be visiting.
Food Service & Production
A flexible suite of solutions
Choose the testing solution that makes sense for you and your employees
The ReadyCheckGo testing program was designed to make your life easier. With this smart testing solution, you can choose between an onsite or at-home test program. Each of the options allows you to identify infected employees and take proper precautions to prevent spread. In addition, the program includes digital registration, reporting, and is customizable to your company's needs and budget.
Turn-key, easy-to-implement testing solution
Fully integrated program, from sample collection to testing to reporting results, minimizes operational burden for your organization. Intuitive, built-in dashboards to easily monitor testing progress and results. Ability for employees to collect their samples at home or at the workplace.
Accurate testing helps keep a healthy workforce on-site
ReadyCheckGo testing program uses PCR technology, the gold standard for COVID-19 testing. PCR-based tests can detect infections early, before symptoms arise, and in asymptomatic individuals. Test employees upon initial return to the workplace (re-entry) to start from a baseline of confidence. Continue re-entry testing for those returning from travel and time off. PCR tests are more sensitive than rapid antigen tests, and much less likely to miss infections1. home unnecessarily.
Monitor testing progress easily with digital dashboards while protecting employee privacy
Easily and securely monitor individual and aggregate test results in close-to-real-time HIPAA-compliant software helps protect employee information.
1 Rapid, point‐of‐care antigen and molecular‐based tests for diagnosis of SARS‐CoV‐2 infection - Dinnes, J - 2021 | Cochrane Library
At-Home Individual PCR Test Program
Testing of individual samples
Employees can collect their samples using short nasal swabs in the privacy of their own homes, without supervision
At-home kits come with pre-paid FedEx shipping label to ship directly to the lab
On-Site Individual Unmonitored PCR Test Program
Testing of individual samples
Employees collect their samples at work with or without supervision of an administrator
Samples are dropped off at a designated location on-site, and shipped to the lab
Simple implementation with ReadyCheckGo Testing Program
Blog: Preventing "silent spread": Why aymptomatic testing is crucial during vaccine rollout