Why do we need COVID-19 testing in schools?
Editor's note: This is the first article in a series on coronavirus testing in K-12 schools. Read about "long COVID" in the next article.
As new coronavirus variants emerge globally, public health experts are looking at one key group of individuals who may be vulnerable to future outbreaks—children. The consequences of the pandemic have hit children on multiple fronts, but most would agree that school closures have caused significant disruption.
Come Fall 2021, schools hopefully will pick up where they left off, which means that students will return to in person learning. However, the number of variants of concern (VOCs) is on the rise and might impact the plan for a full year of in-person learning if we cannot mitigate outbreaks in school. While vaccinations are helping, new variants could increase infection rates. Therefore, COVID-19 testing for K-12 is the responsible solution to helping to prevent an outbreak on campus.
There has been a lot of buzz about coronavirus infections and breakouts due to the Delta variant, but what is the Delta variant and how does it affect children?
A variant is just a different version of an already existent virus. As a virus replicates, some copies contain variations from the original version. These differences can result in the virus spreading more easily and more quickly, creating more severe symptoms, or lengthening the time of infection. A prime example of these replication differences occurred in the Delta variant. First identified in India, it spreads up to 50% faster compared to other variants and now accounts for 83% of all sequenced COVID cases in U.S. [1].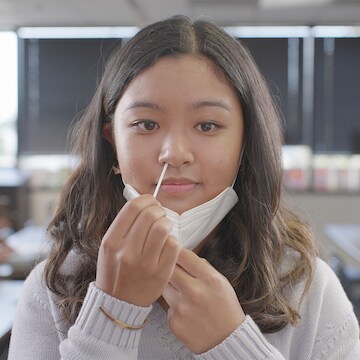 With new variants on the rise combined with both vaccinated and unvaccinated groups returning back to schools, outbreaks among younger students may be inevitable. In the United States, children under 12 are currently excluded from vaccination programs with only approximately 25% of children ages 12–15, and 37% of children ages 16–17 fully vaccinated[3]. This low vaccination rate puts those who are unvaccinated at higher risk of contracting COVID-19. The risk is higher if mandates, such as mask wearing and social distancing, are eliminated.
Comprehensive K-12 coronavirus testing can be quickly implemented with the Thermo Fisher Scientific ReadyCheckGo testing program. With pooled sampling to keep costs more efficient, swabbing done quickly by students, and prepaid return shipping, this program is designed to make in-school coronavirus testing an easy reality for students, educators and parents alike. 
Additional resources
Video: Implement coronavirus testing in K-12 schools
Will school infections result in "long-COVID"?