Shop All Automated Discrete Photometry Analyzers

Save time and cost with a fully automated, high-capacity, benchtop photometric analyzer specifically developed for food, beverage, water and soil testing.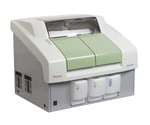 Bring excellent analytical performance to colorimetric, enzymatic and electrochemical measurements with the Thermo Scientific™ Gallery™ Automated Photometric Analyzer.

Save significant time in sample pretreatment and analysis by automating labor-intensive and time-consuming bitterness testing.