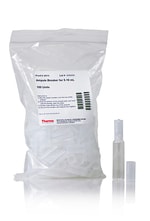 The Thermo Scientific™ Ampule Breaker provides a safe, convenient way to open glass ampules.

Features of the Ampule Breaker:
• Easy to use—single-use format protects against glass shards
• Compatible with glass ampules from 5 to 10 mL in size
• Helps prevents cross contamination

The disposable, one-time-use polyethylene sleeve helps protect your fingers from glass shards when opening ampules. The Ampule Breaker encapsulates the ampule top upon opening, making disposal of the glass top easy and safe.