Amino Normal Phase Lc Columns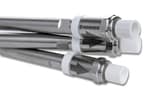 Improve the consistency and reliability of your liquid chromatography (LC) separations with Thermo Scientific™ Syncronis™ Amino LC Columns. Manufactured and rigorously tested in ISO 9000 facilities, these columns are designed to meet a range of analytical needs including fast method development, quantitative analysis and quality control.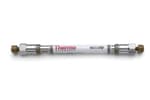 Achieve excellent chromatographic separations in weak anion exchange, reversed phase and normal phase modes with Thermo Scientific™ Hypersil GOLD™ Amino LC Columns. These columns, featuring a high-performance aminopropyl phase, provide outstanding peak shape and sensitivity and are available with a 1.9μm particle size for high speed, high efficiency separations.

Analyze sugars with this versatile amino propyl phase of Thermo Scientific™ Hypersil™ APS-2 Amino LC Columns. Hypersil stationary phases are recognized as an industry standard in HPLC. Proven as an effective analytical tool, classical Hypersil phases are well established and referenced in HPLC methods. Quality is assured by manufacture under ISO 9001-2000 quality guidelines. For more challenging separations that require improved chromatographic performance, use Thermo Scientific™ Hypersil GOLD™ LC Amino Columns as an alternative.