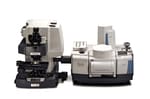 Produce reliable spatially-resolved chemical information from all types of samples with the Thermo Scientific™ Nicolet™ Continuμm ™ Infrared Microscope; it combines high-performance infrared sampling and excellent visible-light microscopy in one unit. Created specifically for today's multi-purpose labs, our infrared microscope sets the standard for FT-IR microspectroscopy — from electronics failure analysis, to crime scene investigations and museum research.

The Nicolet Continuμm™ Infrared Microscope provides fully automated operation, making it easy and efficient to use while also offering visual observation of microscopic samples and chemical characterization of most organic and inorganic compounds.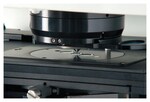 Take advantage of exceptional power and next-generation software in a productive and cost-effective microspectroscopy package with the Thermo Scientific™ Nicolet™ iN10 MX Infrared Imaging Microscope.
The Nicolet iN10 MX Infrared Imaging Microscope is easy to use and provides the power required to rapidly acquire and analyze chemical images to enhance your understanding of the chemical distribution of materials in heterogeneous samples. Designed for professionals with any level of experience in microscopy or spectroscopy, the Nicolet iN10 MX Infrared Imaging Microscope incorporates Thermo Scientific™ OMNIC™ Picta™ Software to achieve consistent and reliable results. Plus, the integrated and highly efficient optical design of Nicolet iN10 MX Microscope improves the speed and sensitivity of routine single point measurements, as well as chemical imaging data sets quality.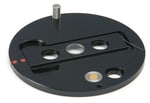 Streamline your infrared microanalysis workflow with the Thermo Scientific™ Nicolet™ iN™10 Infrared Microscope. Designed with the simplicity of an FT-IR spectrometer and the ability to measure samples down to a few microns, it is a modern, productive and cost-effective infrared microanalysis solution. The Nicolet iN10 IR Microscope provides answers with the high degree of confidence required by today's analytical laboratories.