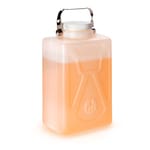 Store solutions and handle large volumes of powders and other solid samples with Thermo Scientific™ Nalgene™ Rectangular Polypropylene Carboys with Closure. Featuring a space-saving design, a wide mouth opening for filling and cleaning and a sturdy stainless-steel handle, these carboys are tough, translucent and autoclavable.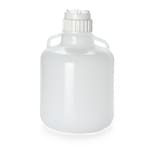 Ideal for the most extreme service conditions, the Thermo Scientific™ Nalgene™ Polypropylene Heavy Duty Vacuum Carboy is useful as a vacuum trap and will hold a full vacuum up to eight hours. Constructed of thick-walled natural polypropylene to provide added strength, it is supplied with white 83B PP closure with TPE (thermoplastic elastomer) gasket. Customization options available for fluid transfer applications. Fit perfectly with a variety of optional 83B closures with standard tubing sets (such as Nalgene™ Top Works™, Nalgene™ Filling/Venting) and custom tubing set designs.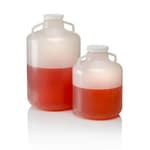 Store and transport solids, powders and liquids using Thermo Scientific™ Nalgene™ Wide-Mouth Autoclavable Polypropylene Carboys with Handles. These durable natural polypropylene (PP) carboys feature a convenient wide-mouth opening to promote ease of cleaning and dispensing. The wide-shoulder handles enable easy carrying and pouring, even with gloved hands.