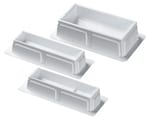 Thermo Scientific™ Reagent Reservoirs provide a variety of solutions to suit all of your pipetting procedures.
Innovation goes beyond our pipetters and tips. Even our reagent reservoirs have been designed to provide solutions tailored to your procedures, rather than the other way around. Four variations of reservoirs are offered, 25mL, 25mL with divider, 100mL and a disposable polystyrene 75mL reservoir.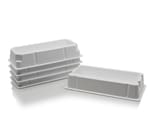 Thermo Scientific Reagent Reservoirs are sterile, sturdy, disposable and molded from high-impact polystyrene. Reservoirs facilitate repeated multi-channel pipetting for reagent delivery to microplates.

Features of the Reagent Reservoirs:

• Sterile and durable reservoirs molded from high-impact polystyrene
• Reservoirs facilitate repeated pick-up of liquid reagents by multi-channel pipettors for delivery to 96-well plates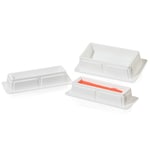 Accomodate a variety of applications with uniquely designed, innovative Thermo Scientific™ Matrix Reagent Reservoirs. These sterile reservoirs offer an extra-wide base to add rigidity and stability, helping to avoid spills. The 25mL divided reservoir allows the pipetting of two different reagents with up to eight channels on one side, and up to four on the other; maximizing recovery if using only a single channel and a small amount of reagent.