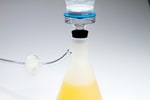 Nalgene™ 50mm inline filter with PTFE membrane provides an excellent barrier for sterile venting of benchtop fermentors, in-line gas filtration, or protecting vacuum pumps from moisture. It also gives the ability to filter aggressive chemicals, including acids and non-aqueous solvents, such as those used in GC and HPLC. Autoclavable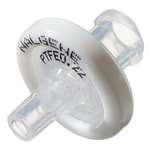 Thermo Scientific™ Nalgene™ syringe filters are built to meet your lab's clarification and sterilization needs. Our filters are available in a variety of sizes and membranes that can be easily used for both sterile and non-sterile laboratory applications. Whether your research necessitates prefiltration, sample preparation, sterile filtration, laboratory filtration, or gas venting, Nalgene syringe filters are lab essentials.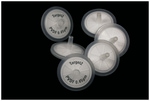 Adding a syringe filtration step prior to injection not only helps to ensure more consistent and reliable results; it also helps protect delicate instruments and prolongs column life. Available in sizes and membrane types to meet any application need, Thermo Scientific™ Target2™ Syringe Filters provide cleaner sample extracts by removing interfering materials and fine particles. Target2 PVDF Syringe Filters are used for general biological filtration. They are especially well-suited for applications where high protein recovery is desired.