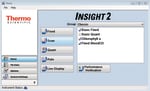 Reach consistent answers at unprecedented speed. From simple measurements to the most sophisticated research studies, Thermo Scientific™ INSIGHT™2 Software enhances the capabilities of your UV-Vis spectrophotometer. Equipped with powerful analytical tools to interpret information instantly, INSIGHT 2 software allows you to build custom QA/QC procedures to eliminate costly manual operations and increase your laboratory productivity. Add Security Suite Software to INSIGHT2 Software to help your laboratory achieve compliance with FDA 21 CFR Part 11 regulations for user access control and digital signatures.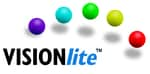 Thermo Scientific™ VISIONlite™ 5 Software enhances the capabilities of our stand-alone Visible and UV-Visible spectrophotometers. The software enables you use your spectrophotometer to its fullest potential, displaying and reporting experimental and analytical results with ease.

Thermo Scientific™ VISIONlite™ ColorCalc software is a powerful stand-alone software package that adds the ability to perform numerous color calculations for a variety of applications. The software records the required transmission or reflectance spectrum and automatically performs calculations using the recorded data.

Thermo Scientific™ VISIONlite™ EnzLab software offers predefined methods and operation procedures for all standard enzymatic test kits including Citric Acid, Lactic Acid, D-Glucose, D-Fructose, Ethanol, Lactose and many more. EnzLab automates and facilitates enzymatic determinations, ensures correct calculations, and provides appropriate analytical reports.

Thermo Scientific™ VISIONlite™ Wine Analysis software allows users to perform an extensive list of predefined photometric, colorimetric and enzymatic analytical procedures common in wine and juice analysis. This PC software features a simple user interface, reliable data recording, and error-free evaluation of results within comprehensive reports.