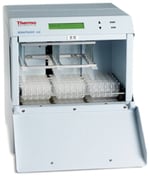 Carry out rapid purification and concentration of selected targets from a broad range of pre-enriched food samples with the Thermo Scientific KingFisher mL Food Protection Purification System. Combined with Dynabeads immuno-magnetic separation (IMS) products, the system provides an optimized solution for the purification of microorganisms prior to detection using methods such as PCR, ELISA, and agar plates.

Features of the KingFisher mL Food Protection Purification System include:
• Protocols included for E. Coli 0157, EPEC/VTEC, listeria, and salmonella
• Automated processing of up to 15 samples in ~40 min
• High reproducibility and maximum performance of capture technology
• Simple, easy operation: complete processing through internal program
• Small footprint: uses only 11.8 in (30 cm) of bench depth

The system-of-choice for processing volumes up to 1 mL, this magnetic particle processor enables all purification steps in a single-strip of five tubes, and supports 15 processed samples per run. With the ability to release target molecules into a volume as small as 50 µL, samples such as DNA or RNA can be isolated and concentrated from larger starting volumes simultaneously.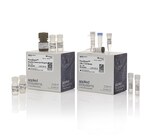 The Applied Biosystems CTS PureQuant assays are a family of assays that accurately identify and quantify specific immune cell types in a mixed population of cells. These assays are TaqMan qPCR-based and measure genomic DNA methylation at specific sites that serve as a unique identifier. The assays include standards and controls and each 96-well plate can accommodate up to seven test samples. Results are provided as a percentage of target cell type out of total input cells using a free analysis tool.
The CTS PureQuant CD8+ T-Cell Assay utilizes the CD8B gene as an epigenetic marker for CD8+ T cells; the assay targets regulatory elements within its third intron (see
http://stm.sciencemag.org/content/10/452/eaan3508
).
Benefits include:
•
Proven performance
―core technology has been used for identification and quantification of immune cell types for over a decade
•
Easily standardized
―qPCR method enables consistent results across multiple users, instruments, and sites
•
Facilitates regulatory filings
―regulatory support file provided upon request; established performance specifications following ICHQ2(R1) guidelines
•
Scheduling flexibility
―assay can be performed using fresh or frozen cells/gDNA
The assays include all reagents, standards, and controls required to run the assay. Specific components include:
•
Calibrator:
corrects for variation in bisulfite conversion efficiency. Plasmid-based calibrator harbors the genomic target regions in equimolar ratios and includes GAPDH. Subjected to bisulfite conversion followed by copy number estimation via qPCR standard curve. Allows estimation of assay-specific bisulfite efficiency factor: the ratio between TpG/GAPDH copy numbers measured from the same plasmid.
•
Reference:
checks assay performance. Consists of genomic DNA extracted from human blood of pooled healthy donors. The reference values represent the expected range of the target cell type. For example, CD8+ cells are generally more abundant than Treg or Th17 cells.
•
Standards:
determine the unknown copy number. Consist of six dilutions spanning 4-log linear dynamic range (30-31250 copies). Absolute copy numbers can reliably be determined using the slope and intercept of the respective standard curves.
This product is manufactured at a site with an ISO9001-certified quality management system.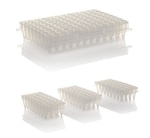 The Applied Biosystems MicroAmp TriFlex 96-Well PCR Reaction Plate is a versatile polypropylene PCR plate designed for use with Applied Biosystems standard (0.2 mL) 96-well and
ProFlex 3x32-well
thermal blocks. The plate contains three identical 32-well plate segments connected by dual side tabs that can be used as a single 96-well plate or divided into 32-well plates for smaller experiments.
• Versatile format works with standard 96-well and 3x32-well thermal blocks
• Reduce waste from smaller experiments with individual 32-well plates
• Easy handling and labeling with semi-skirted side tabs
• Alphanumeric labeling on each 32-well plate segment for easy well identification
• Certified free of DNA, RNase, and PCR inhibitors
The MicroAmp TriFlex 96-Well PCR Reaction Plate offers the same thin-walled construction as all other MicroAmp plastics, allowing for excellent heat transfer from thermal block to sample and is validated with Applied Biosystems PCR thermal cyclers for optimal fit and performance. Reduce waste from smaller experiments by using the easy-to-tear dual side tabs to separate the 96-well plate into individual 32-well plates.
MicroAmp 32-Well Clear Adhesive Film
is also available for use with the 32-well plate segments.