Handheld Repeaters & Bottletop Dispensers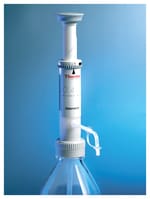 Dose liquids from reagent bottles with Thermo Scientific™ Finnpipette™ Dispensers.

Reduce the risk of error and increase productivity in immunoassay applications. Designed especially for work with microplates, featuring simultaneous 8-channel dispensing.
Rapidly dispense up to 45 times in succession without refilling. This lightweight, easy to use repeater pipetter is designed for one-handed dispensing.