Sterilin Silicone Products

Perform medical, pharmaceutical and food applications with high quality, nontoxic Thermo Scientific™ Sterilin™ Silicone Tubing.

Guarantee a tight, reliable seal for your glass and plastic flasks. Suitable for use in food, biological and pharmaceutical applications.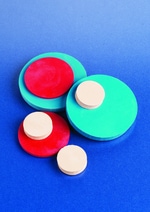 Reduce opportunity for leakage in caps, injection ports and other applications. Translucent silicone material provides excellent performance over a wide temperature range.