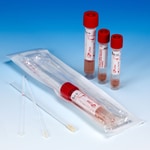 Simplify collection, transport, maintenance and frozen storage of virus, chlamydia, mycoplasma and ureaplasma specimens. Available as filled tube with separate swab or in a kit.

Ensure optimal sample collection and recovery using Thermo Scientific™ Sterilin™ Gel Transport Swabs. Swabs contain Amies media to preserve sample during lab transport.

Simplify sample collection with Thermo Scientific™ Sterilin™ Plain Swabs. Ideal for samples that will be processed immediately and don't require preservative for transport.